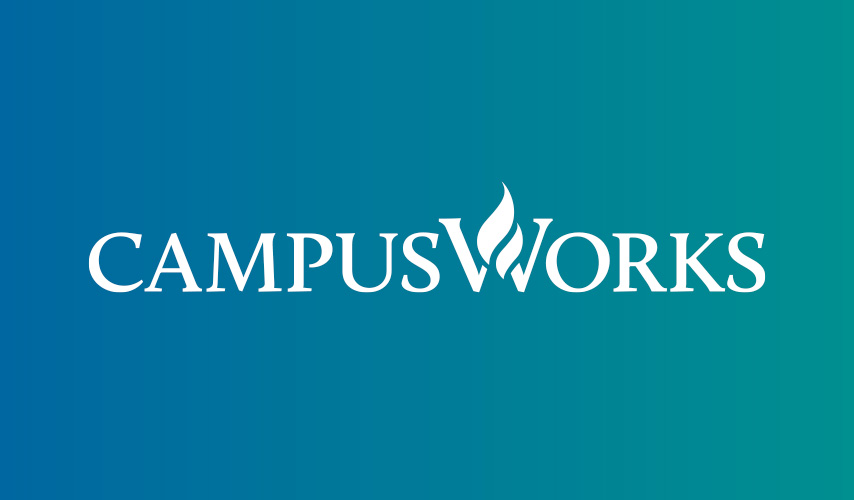 Poetry and Pajamas
A Cautionary Tale
It's official. After four and a half months in quarantine, our team members are starting to go stir crazy.
How do we know?
Let's just say, they're experiencing some bizarre symptoms.
Take Portfolio Executive Leader Doug Hawks, for example. Doug was recently asked to introduce two new members during our monthly All Hands call and present them with their official CampusWorks pin. When getting dressed for the meeting, Doug donned a crisp, white dress shirt, dapper red tie, and his best sports jacket. Then, he completed the look not with a nice pair of slacks, as you might expect, but with his favorite teal pajama bottoms, which, if you look closely, feature a fight scene between a unicorn and a seal-riding pug.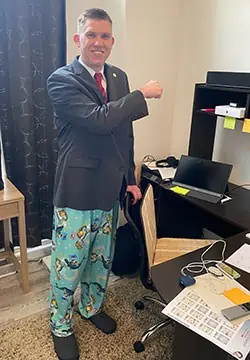 On its own, this isn't a big deal. Studies show that most people on video conferences are wearing professional attire up top and a comfortable alternative down below. But in addition to the pajamas, Doug has started completing his assignments in verse.
Check out these poems he wrote to introduce new team members Anthony and Syl…
Anthony's here, and we're all glad,
Helping Aims, with some stuff they had.
Rocking content, making online art,
This guy's creative and crazy smart!
When he goes home, he spins some tracks,
Producing music, developing acts.
He rips guitar, drums, and bass,
Add piano there – he owns this space.
When it snows he rides his board,
See his Rubik's skills and you'll be floored.
So send a message – tell him hi,
He'll say hi back, he's a classy guy.
•••
Syl's up next, let's welcome her,
SEO she owns, making Aims' ads purr.
Google, Facebook, Twiiter, TikTok.
Never mind not TikTok,
until federal US law enforcement confirms it's not a national security threat.
If you have her to a BBQ, she'll bring the tater salad.
She calls it mean – I don't know – but I trust her claim is valid.
Her favorite quote's Tom Edison,
ignore what clothes work is in.
For anything more, I have to think back,
I think she enjoys being in a kayak.
Clearly, Doug is a lost cause. But your team members don't have to be. Stay vigilant and monitor your workplace for the 2 Ps (poetry and pajamas) to spare your colleagues a similar fate. In parting, we'll leave you with this…
How do you know
when your team members go
a little quarantine crazy?
They wear pajamas to work.
They write poems and smirk.
Don't confuse it with lazy.
Thanks to Doug and all our road warriors who go stay the distance to serve our clients! 
---
Read More Tales: