Root Causes of Campus Issues
Dig Deep to Solve More
When processes are streamlined, operations simplified, and systems up and running, leaders have peace of mind. Faculty understand and address challenges. Administrators innovate and increase efficiency in operations. Staff members work happily and efficiently.
And students? Students can focus on learning, on succeeding, on stumbling and getting back up …. When a campus works, students can be students.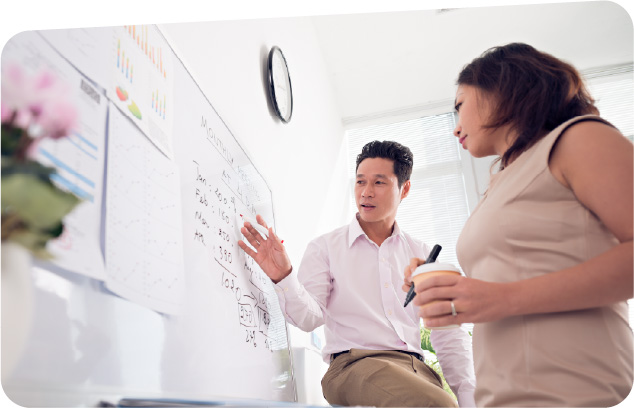 CampusWorks' Proven Methodologies Deliver Intentional Outcomes
Integrated strategic planning
Reaching your goals and realizing your vision aren't abstract concepts in some far-off future. You wake up on a mission every day. We can relate. Because when your institution is aligned across all sectors, and everybody not only knows the goals but works together to reach them, you thrive — and, to be honest, so do we. You call it integrated strategic planning. We call it happiness alignment.
Project management and technical support
Big systems can cause big anxiety. You wouldn't send a student into the world unprepared to face life's challenges, and we feel the same way. Since we start every project by listening, we're able to take the fear out of change and work with you to create a path to peace of mind. And, because we're fiercely independent, you can trust us to deliver unbiased solution options that your team can sustain independently long after our work is complete.
Process reimagine and redesign
When you are close to a project, sometimes it's hard to take a step back and get a fresh perspective. At CampusWorks, the status quo is a status no. We rethink, reimagine, redesign, and reignite passion and purpose so you and your campus ecosystem stay healthy and running at peak potential every day. Our team offers decades of higher education experience across multiple institutions. Our experience, outside energy, and inspired insight bring a fresh perspective to your campus and the processes that keep you going.
Staffing and leadership
You can have all the right systems in place, but it takes an experienced team to innovate and inspire change. Sometimes, it takes a jump-start and an independent perspective. Other times, it means filling a critical position. And, oftentimes, it means a bigger team to handle a daunting project, interim leadership to drive transformation, or managed services to guide growth and innovation. What you need is what CampusWorks provides. Our talent, expertise, and approach become yours, and that means we are always there and always available — from planning through completion. That's peace of mind you can count on.
Organizational and technical assessments
CampusWorks offers an independent perspective — a technologically agnostic second opinion — about what's ailing your teams, your service, and your campus systems — and why. Because our institutional knowledge is a knowledge of institutions, we can assess where you stand in the competitive landscape — from hiring staff to enrolling students — and help you stand out in a crowded field.
Shared Services
Is a pricetag putting a pause in your progress? Think Shared Services. Is lack of staff starving your campus of support services? Think Shared Services. There's no doubt economies of scale for staffing, technical solutions, and even software may make sense for your campus — saving you time and money. CampusWorks identifies those opportunities and partners — because we work with them every day. Shared Services means shared progress.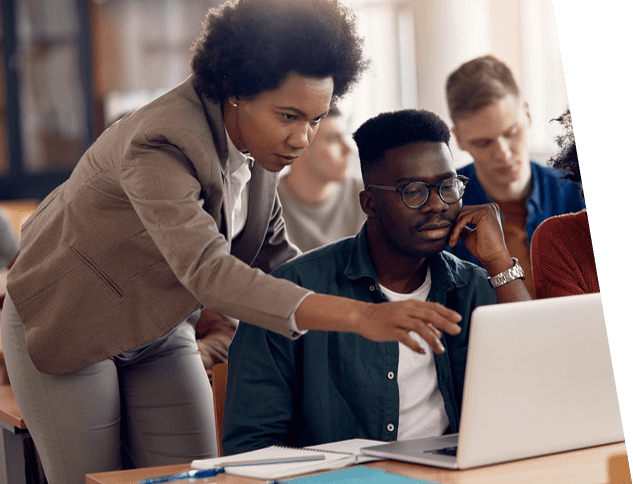 What's Right and What Works
We Stand by Our Guiding Principles
Curated over thousands of engagements spanning more than two decades, our nine Guiding Principles inspire our approach and empower our team to deliver beyond expectations. These Guiding Principles are woven into the fabric of our CampusWorks culture, representing what we expect from one another as colleagues and what you can expect from us as your partner in transformation.
Our Mission
We collaborate with colleges and universities to develop and implement insightful strategies that improve institutional effectiveness and enhance the student experience.
Our Vision
We transform higher education so students, faculty, and staff thrive.
Our Promise
We promise to work relentlessly with your team to align people, processes, information, and technology to improve operations and deliver more value from institutional investments. We will provide an objective yet intimate perspective to some of your greatest challenges by pairing strategy with execution.
Integrity and ethics are the basis for advancing our business.
Our seasoned higher education professionals, who've served in leadership roles at institutions like yours, understand the business of higher education and its impact on the student experience, and they're committed to delivering smart, sustainable solutions.
We do what we say.
We are responsive to the challenges we uncover while fulfilling the promises we've made.
If it is good for the client, it is good for CampusWorks.
Our vendor-neutrality means that the recommendations we deliver are truly unbiased, motivated solely by your institution's best interests.
We respect diversity, experience, innovation, and courage.
We are known for our ingenuity because we don't stop at the first solution. We collaborate and iterate until we arrive at the smart, sustainable result that addresses your specific needs.
Our people and results distinguish us.
Our mission is to collaborate with colleges and universities to develop and implement insightful strategies that improve institutional effectiveness and enhance the student experience.
We are compassionate.
We will not back down from seemingly impossible challenges, and we know how to approach hard conversations with respect for your institution's culture and values.
We stop, think, and then go.
Drawing on our years of higher ed experience across so many institutions, we listen to many, reflect on all we hear, consult with our peers, and return with recommendations and strategies you can trust.
We work with you, not around.
Our experts serve as members of your team, working alongside you to implement effective solutions that achieve sustainable results.
We are a team. You are never alone.
We actively engage members of your campus community, including students, to explore beyond surface-level symptoms and uncover the deep, systemic challenges that prevent your institution from realizing its vision.
Let's Get Back To Happy
Contact us for more information, more understanding, and more days that run smoothly.