Relationships that Last
Facilitate Sustainable Change for Higher Education
Since 1999, CampusWorks has been collaborating with colleges and universities to develop and implement insightful strategies that improve institutional effectiveness and enhance the student experience.
Curiosity
We engage your campus community to explore beyond surface-level symptoms and uncover the deep, systemic challenges preventing your institution from realizing its vision.
Collaboration
Our experts become members of your team, working alongside you to develop and implement insightful strategies that improve institutional effectiveness and enhance the student experience.
Commitment
Our guiding principles motivate our team members to deliver beyond clients' expectations and support a culture of belonging that honors, values, and respects individuals and the richness of their differences.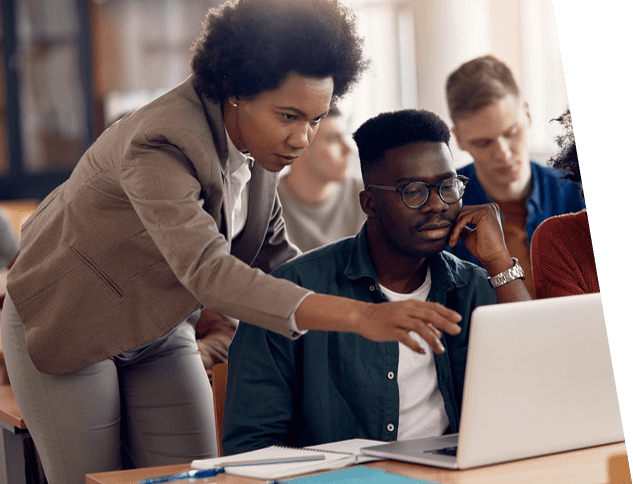 Leadership that Works
Lead with Compassion.
Execute with Expertise.
At CampusWorks, we believe in bringing humanity back to the workplace, and that means investing in relationships that last. Our experts work in real time, course-correcting as we go, so we're not just delivering solutions but facilitating sustainable change for your campus.
CampusWorks is Committed to Diversity, Equity, and Inclusion
Our People and Our Solutions Are Never Commodities
Just like our clients, CampusWorks celebrates individuality, unique talents, abilities, backgrounds, and paths. If you want to use your powers for good, apply today to join our team!
Diversity
You: Value diversity of thought, background, skills, cultures, and experiences.
CampusWorks: Honors a culture of belonging that values and respects individuals, their rich differences, and the common humanity we share.
Equity
You: Expect equity and fairness in the workplace.
CampusWorks: Embraces and promotes the rights of people who historically have been marginalized.
Inclusion
You: Deserve a seat at any table.
CampusWorks: Is conscious of and intentional in our actions as we seek to mitigate the harmful effects of inequality and bias.
Valuing Employees Works
Happy Staff Mean Happier Clients — and A Better World
We're empowering generations of students, faculty, and staff on college and university campuses around the world to focus on learning, collaboration, and innovation by transforming how campuses work. If you want to use your powers for good, if you drive vs. adapt to change, if your compassion and understanding for your fellow humans inspire you to make a difference, let us know.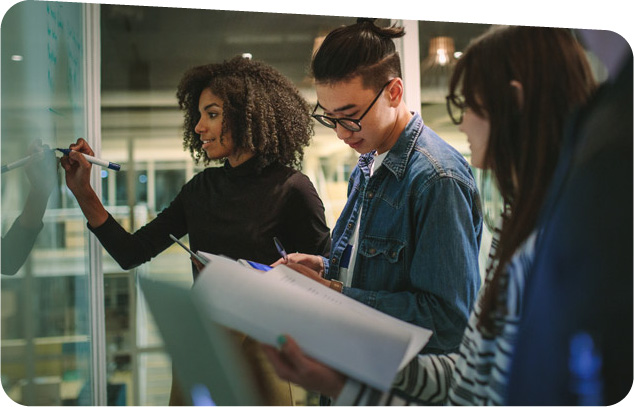 Social Responsibility
Since our inception, we have donated over $2M to our clients' foundations, scholarship funds, and student hunger initiatives, to put education and basic needs within students' reach.
Professional Development
We support employee growth through individualized professional development plans designed to cultivate new skills and provide advancement opportunities.
Mentorship
Our mentoring program pairs employees with experienced team members who provide personalized guidance that supports their professional goals.
New Employee Programs
Our buddy program is designed to make life easier for new team members by helping them to build meaningful connections and to better understand how we operate.
We Foster an Award-Winning Culture
Apply for Admission to Our Happy Campus
If you're committed to making the world a better place, there's no better place to be than CampusWorks.
A Designated Great Place to Work™ Certified Company
Great Place to Work® recognized CampusWorks as one of 2021's Best Workplaces in Consulting & Professional Services.™
A Great Place to Work™ Certified Company
When asked about our company's culture, 99% of employee respondents agreed that CampusWorks' team members are "given a lot of responsibility" and are "proud to tell others they work here."