Strategic Staffing Solutions for Higher Education
Great Resignation or not, sometimes you just need an extra set of hands — whether to fill a vacant leadership seat or push a project across the finish line. Our strategic staffing solutions deliver on-demand access to the talent you need — when you need it.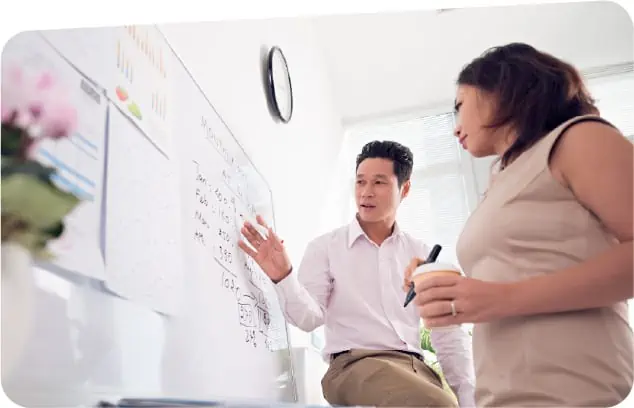 Whether You Need an Interim Leader…
There's never a good time to be down a leader. Productivity wanes, morale suffers, and inertia sets in. CampusWorks can help you bridge costly leadership gaps — for a few months or a few years — to restore stability and strengthen operations while you search for a permanent replacement.
We provide seasoned professionals who bring diverse perspectives from their experiences at multiple institutions across North America. That means you'll get a fresh set of eyes on age-old challenges. You'll gain not only a leader, but also an unbiased view of the organization's strengths and shortfalls. We'll help you discover which systems are serving you well and weed out those creating unnecessary inefficiencies. We'll help you identify silos impeding innovation and level them through inclusive collaboration.
Our vice president and director level professionals can fill any administrative vacancy and will strengthen operations in preparation for your new hire. Here are some of the ways we can help:
Cybersecurity leadership
Can shore up your current information security efforts and provide specialized expertise that could be costly to hire full-time.
Can spearhead the development of a strategic enrollment management (SEM) plan and set you on a path to turnaround declining enrollment.
Financial Aid leadership
Can reduce packaging time and increase compliance with regional, state, and federal regulations.
Human Resources leadership
Can provide the broad support of an HR generalist or tackle a specific area, like talent acquisition or employee relations.
Can tap your technology investments to work smarter while advancing the organization's IT maturity.
Institutional Research leadership
Can elevate your institution's reporting capacity and empower data-informed decision-making.
Registrar leadership
Can ensure back-to-school goes off without a hitch … or a glitch.
During our time with you, we'll be objective and honest in our assessment of what's working and what's not. We'll document processes and best practices, mentor your staff, and provide an actionable roadmap to the brighter future you've imagined. We'll leave the department better than we found it and empower your people to continue achieving success long after we leave.
…Extra Boots on the Ground
Who can't use an extra set of hands (or several) from time to time? Especially when those hands have hard-to-find expertise.
CampusWorks can augment your existing team by providing on-demand access to specialized skills you may be missing. Here are some of the ways we can support you:
If you have a large project, like an enterprise system implementation, we can provide expert programmers and project managers who are experienced with major ERP systems, like Ellucian Banner, Ellucian Colleague, Anthology, Jenzabar, Workday, and Oracle. We can also backfill technical and functional positions to keep current systems secure and operations running smoothly so your home team can focus on the implementation effort.
If your institution needs to harness data to gain a competitive advantage, we can provide data analysts and Institutional Research experts to collect, clean, and interpret data sets to help you answer questions and solve problems.
If you need to consolidate back-office functions to stretch limited resources, we can provide shared services staff to enable you to tap into the power of collaboration to expand human and financial capacity.
…Or a Second Opinion
Sometimes you just need a trusted friend to tell you the truth. That's what our clients call us — "a trusted friend" — because we provide unbiased feedback and guidance with your institution's best interests at heart.
Whether you need to understand your IT organization's strengths and weaknesses, determine if your ERP system is up for the challenges ahead, or reimagine and redesign business processes to streamline the student journey, you'll find the objective, informed advice you need in us. Here are some of the ways we can help:
ERP Evaluation and Selection can help you confirm whether to repair or replace an existing system while building consensus among your campus community about the solution to adopt.
Process Reimagine & Redesign (PRR) optimizes business processes to align with your institution's strategic plan.
Technology Assessment is where all IT transformation begins, by evaluating how well IT management, systems, and operations are supporting your institution's needs.
CampusWorks Has You Covered
Whether you need an interim leader, extra boots on the ground, or a second opinion, we've got you covered. We're here for the short-term or the long haul, so you can be there for your students. How can we help? Let's talk!