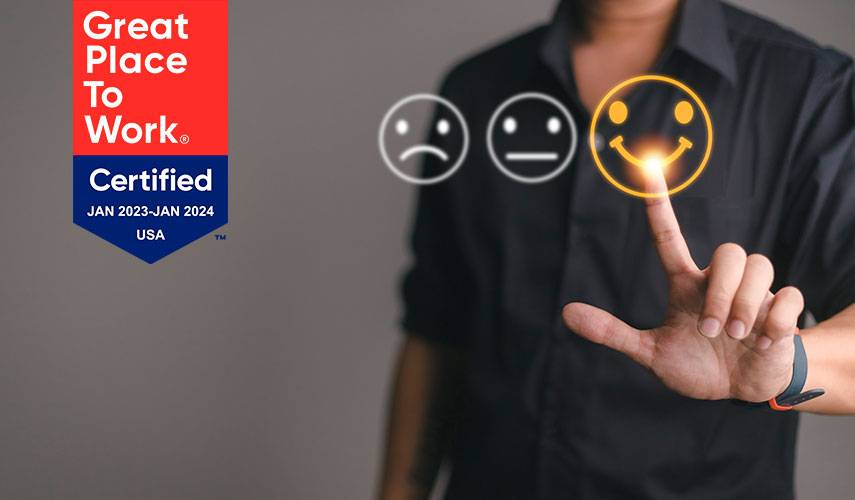 News
'Happy' Workplace Culture
Makes CampusWorks a Great Place to Work® for Third Year in a Row
Bradenton, FL, February 16, 2023 — CampusWorks is proud to be recertified by Great Place to Work® for the third year in a row. The prestigious award is based entirely on what current employees say about their experience working at CampusWorks. This year, 94% of employees said it's a great place to work – compared to 57% of employees at a typical U.S.-based company.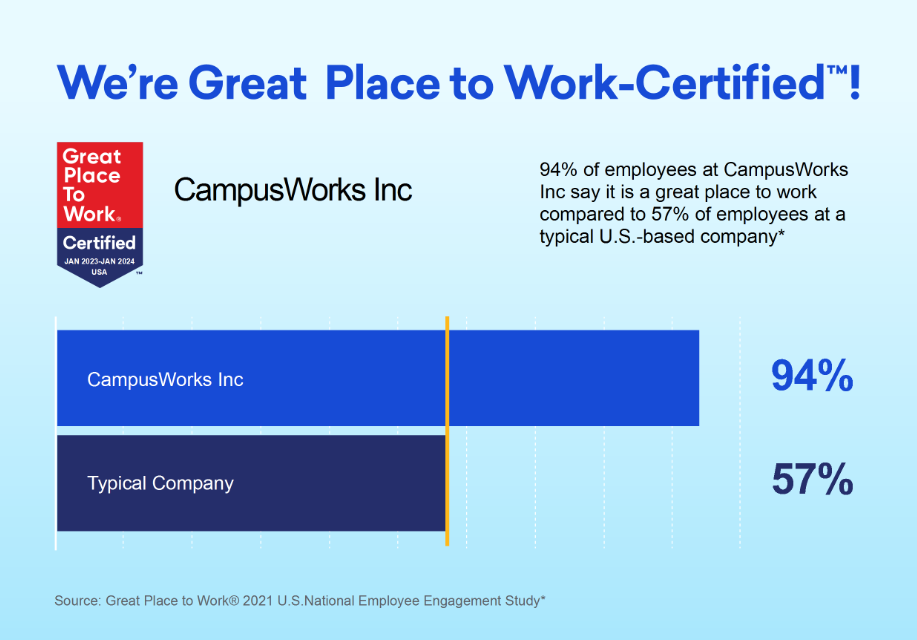 Click the image above to see our Great Place to Work profile
Great Place to Work® is the global authority on workplace culture, employee experience, and the leadership behaviors proven to deliver market-leading revenue, employee retention, and increased innovation.
"Great Place to Work Certification™ isn't something that comes easily – it takes ongoing dedication to the employee experience," said Sarah Lewis-Kulin, vice president of global recognition at Great Place to Work. "It's the only official recognition determined by employees' real-time reports of their company culture. Earning this designation means that CampusWorks is one of the best companies to work for in the country."
Last year, CampusWorks experienced explosive growth, hiring 105 new employees to keep pace with increasing demand for its services. Despite undergoing a significant organizational transformation, CampusWorks' leadership remained committed to preserving the company's people-first culture through best practices learned from Great Place to Work. As a result, zero positions were eliminated; 30 team members moved into new, advanced roles; and employee satisfaction, retention, and referrals were at an all-time high.
"Earning this recertification is especially meaningful this year," said CampusWorks CEO Liz Murphy. "It demonstrates that we have successfully transformed our organization to better serve our clients while also positioning our employees for personal and professional success."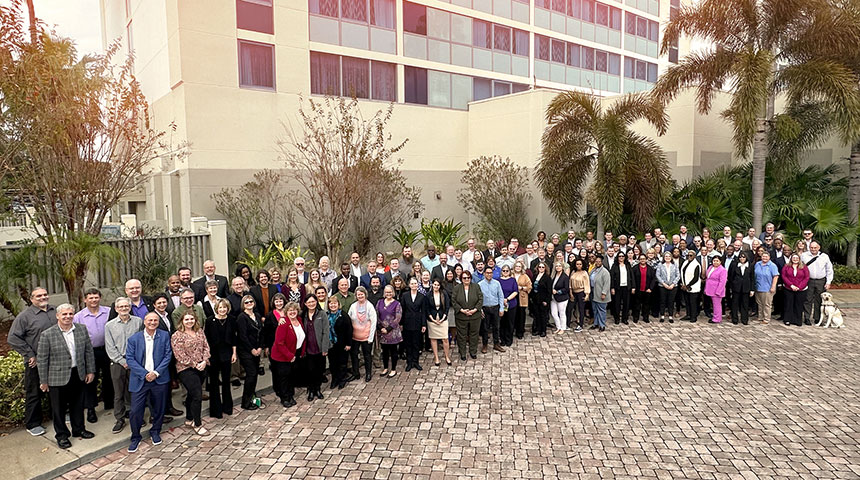 CampusWorks' 2023 All Hands Meeting in Orlando, Florida.
CampusWorks' transformation has been publicly personified by an uplifting rebrand that positions the team as "the Happy Campus People" with a value proposition that promises to help colleges and universities "Get Back to Happy." After two years of uncertainty related to the Covid-19 pandemic, CampusWorks' happiness-centric mantra is a refreshing guiding light that's been embraced by clients and employees alike.
The firm's focus on happiness begins at the top. "It's so amazing to have a leadership team that cares. A leadership team that takes the time to personally know us," said Jean-Paul Spagnolo, an executive account director at CampusWorks. "It's not uncommon to find a letter in your mailbox at home from somebody on the leadership team expressing gratitude for the work that you've done. It's nice to know there's a team that not only cares about you but takes the personal time to express it."
"At a time when historic talent shortages and trends like 'quiet quitting' dominate the headlines, there is no better validation that CampusWorks' happy, inclusive, purpose-driven culture is what today's professionals are looking for," said CampusWorks Executive Director of Human Resources Cris Lloyd.
According to Great Place to Work research, job seekers are 4.5 times more likely to find a great boss at a Certified great workplace. Additionally, employees at Certified workplaces are 93% more likely to look forward to coming to work, and are twice as likely to be paid fairly, earn a fair share of the company's profits and have a fair chance at promotion.
Hear why CampusWorks' employees think this is a great place to work:
WE'RE HIRING!
Looking to grow your career at a company that puts its people first? Visit our careers page at: campusworksinc.com/about/career-opportunities
About CampusWorks
Since 1999, CampusWorks has been collaborating with colleges and universities to develop and implement insightful strategies that improve institutional effectiveness and enhance the student experience. Learn more at campusworksinc.com and LinkedIn and Facebook.
About Great Place to Work Certification™
Great Place to Work® Certification™ is the most definitive "employer-of-choice" recognition that companies aspire to achieve. It is the only recognition based entirely on what employees report about their workplace experience – specifically, how consistently they experience a high-trust workplace. Great Place to Work Certification is recognized worldwide by employees and employers alike and is the global benchmark for identifying and recognizing outstanding employee experience. Every year, more than 10,000 companies across 60 countries apply to get Great Place to Work-Certified.
About Great Place to Work®
Great Place to Work® is the global authority on workplace culture. Since 1992, they have surveyed more than 100 million employees worldwide and used those deep insights to define what makes a great workplace: trust. Their employee survey platform empowers leaders with the feedback, real-time reporting and insights they need to make data-driven people decisions. Everything they do is driven by the mission to build a better world by helping every organization become a great place to work For All™.
Learn more at greatplacetowork.com and on LinkedIn, Twitter, Facebook and Instagram.