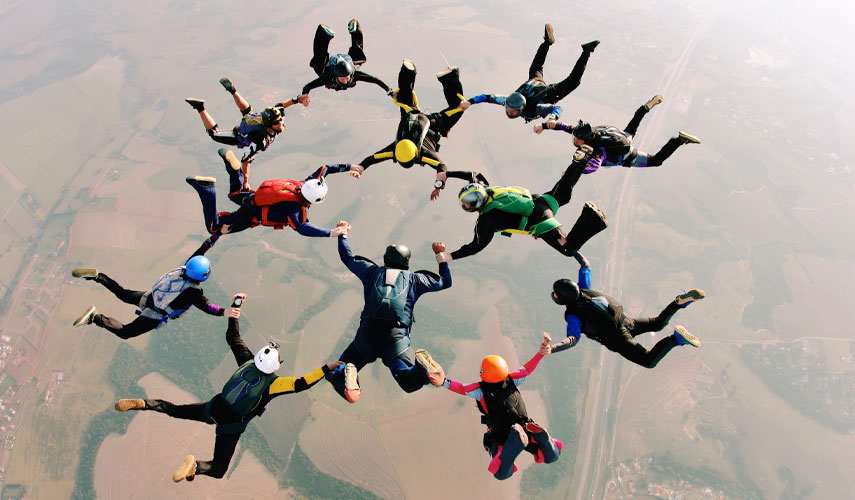 Thought Leadership
How to Build a 'High-Trust Culture'
By Cris Lloyd
Executive Director of Human Resources
CampusWorks
"A lack of trust is your biggest expense."
– David Horsager, global trust expert and best-selling author of The Trust Edge
This month, the CampusWorks team is celebrating our recertification as a Great Place To Work® for the third year in a row. Our Trust Index Survey, which Great Place to Work administered to collect and analyze our employees' feedback during the certification process, revealed that 94% of our employees said CampusWorks is a great place to work – compared to 57% of employees at a typical U.S.-based company.
Earning this recertification is especially meaningful right now, considering the transformation we underwent last year. In response to explosive demand for our services, CampusWorks hired 105 new employees and launched a strategic realignment to enable us to operate more effectively. This recertification validates that we have successfully transformed our organization to better serve our clients while also positioning our employees for personal and professional success.
As I reflect on the changes that have occurred over the past year, I am humbled by the deep trust that made it possible. It required our employees to trust that changes to our reporting structure and their roles and responsibilities weren't a euphemism for layoffs but an effort to help them work smarter by aligning our resources more efficiently, creating advancement opportunities, and enhancing work-life balance. It also required our clients to trust that the changes we made were designed to serve them more effectively.
In today's deeply polarized world, earning this level of trust is no small feat. According to Great Place To Work® research, a high-trust culture is built on three components:
Credibility. Do workers believe leaders are competent, communicative, and honest?
Respect. Do workers feel respected both as professionals and individuals with lives outside of work?
Fairness. Do workers see the organization as a place where everyone has a fair chance to succeed?
In this article, we'll explore how CampusWorks approaches these three areas and reveal the results it has had on our culture.
Credibility
We know that credibility isn't built overnight; we've spent over two decades building ours. For us, this work begins with listening — to our employees and clients — and acting on the feedback we receive. From surveys to workgroups, we collect quantitative and qualitative data throughout the year to improve what we're doing and illuminate the path forward.
We also believe in "walking the talk." That's why the entire CampusWorks team — from our CEO to our frontline professionals — live by our guiding principles. It ensures that our internal actions mirror our public behavior and deliver on our promises.
CampusWorks' Trust Index says:
96% agree that management is honest and ethical in its business practices.
95% agree that management trusts people to do a good job without watching over their shoulders.
95% agree that people here are given a lot of responsibility.
95% agree that people here are willing to give extra to get the job done.
Respect
At CampusWorks, we want everyone to feel like they can bring their full selves to work. We foster belonging and inclusion by acknowledging employees' lives outside of work. We've hosted virtual fort building contests and Halloween parades to bridge the gap between our personal and professional lives and we introduce our new employees to the team by asking them to share fun personal trivia, like favorite foods, vacation spots, and the weirdest thing in their fridge.
With burnout culture running strong at many organizations, we also appreciate that people need time away from work to recharge. At CampusWorks, we support employees' work-life balance with a generous vacation policy — and we encourage them to use it! We also show appreciation for good work and extra effort through financial incentives and a peer-based program that recognizes employees who live our Guiding Principles.
CampusWorks' Trust Index says:
97% agree that people care about each other here.
94% agree that you can count on people to cooperate.
93% agree that management shows appreciation for good work and extra effort.
91% agree that people are encouraged to balance their work life and personal life.
Fairness
At CampusWorks, we want everyone to feel they have a fair chance to succeed. We honor a culture of belonging that values and respects individuals, their rich differences, and the common humanity we share. This starts with ensuring equal compensation for employees doing equal work. It's further supported by initiatives like our People & Culture Work Group, which ensures all voices are heard and considered in the development of employee benefits and workplace well-being programs.
CampusWorks' Trust Index says:
98% agree that people here are treated fairly regardless of their sexual orientation.
97% agree that people here are treated fairly regardless of their age.
96% agree that people here are treated fairly regardless of their race.
94% agree that people here are treated fairly regardless of their gender.
High Trust Leads to High Performance
Earning Great Place to Work recertification for the third year in a row has shown us that while employee trust has a positive impact on the bottom line, the real value is creating a workplace that people don't want to leave. A workplace where people feel safe to try new things and feel motivated to go above and beyond expectations to deliver high quality service that, as our CEO likes to say, knocks our clients' socks off.
Need Help Transforming Your Organization?
At CampusWorks, we believe in bringing humanity back to the workplace, and that means investing in relationships that last. We collaborate with colleges and universities to develop and implement insightful strategies that improve institutional effectiveness and enhance the student experience. Our experts work in real time, course-correcting as we go, so we're not just delivering solutions but facilitating sustainable change for your campus.