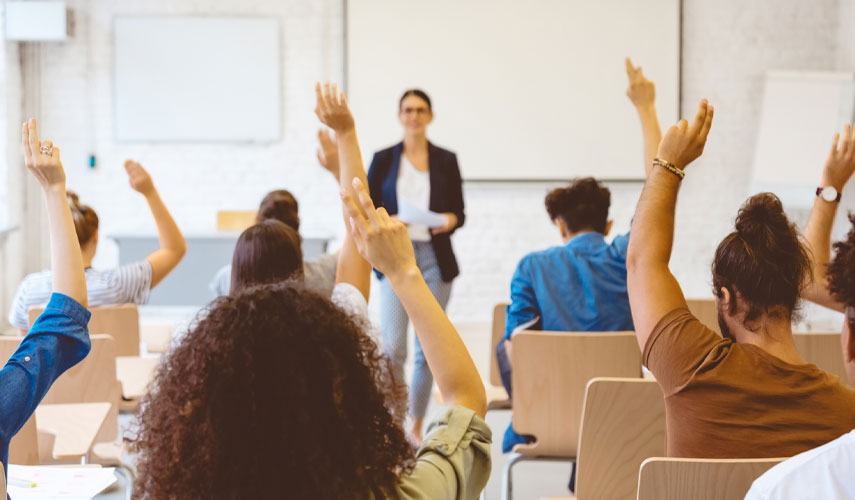 Enrollment Services
Recover, Stabilize, Launch:
MSU Denver's Post-Pandemic Enrollment Recovery Journey
Dr. Will Simpkins, Vice President for Student Affairs
Background:
MSU Denver is a regional, public comprehensive university in Denver, CO. Colorado's only modified, open access, four-year institution, MSU Denver serves over 16,000 undergrads, over 1,100 graduate students, and over 100,000 alumni, most of whom still live in the Southern Rocky Mountains, an area known as "the Front Range." The third largest university in Colorado, MSU Denver educates more Coloradans than any other institution in the state.
Tech Stack:
SIS: Banner 9
CRM: Slate
Advising: EAB Navigate
Transfer Portal: EAB
Financial Aid: Manual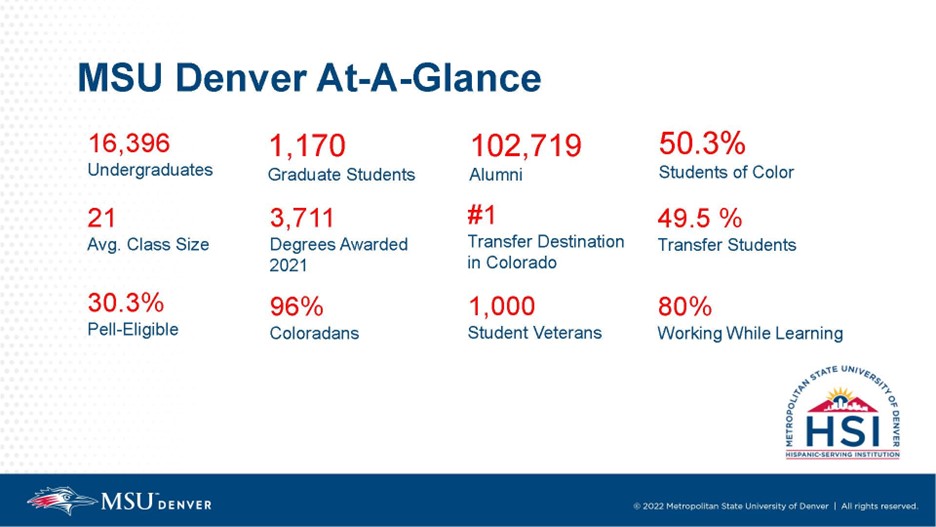 The 'Enrollment Cliff' Arrives Early at MSU Denver
Prior to the pandemic, MSU Denver, like many colleges and universities, was anticipating the looming enrollment cliff, a demographic phenomenon in which the college-age population is expected to shrink, beginning in 2025, due to lower birthrates during the Great Recession. Since Colorado's population has been on the rise over the past decade — according to the U.S. Census, the state saw 15% growth from 2010 to 2020 — many higher ed leaders have been debating if and how the enrollment cliff will impact The Centennial State.
Despite statewide population gains, MSU Denver's enrollment has been declining over the past decade. In 2010, enrollment levels reached an all-time high of nearly 24,000 students. But by Fall 2020, enrollment had dropped to 19,121 students. It fell even further by the following spring, reaching 17,508 students, a 27% decrease from its high.
A Perfect Storm
In 2020, the Covid-19 pandemic forced institutions across the nation to rapidly shift to online operations. At MSU Denver, the pandemic revealed latent challenges and set the stage for a perfect storm of volatility and disruption:
The student experience was impacted by operational inefficiencies. For example, it could take up to 8 weeks for transfer students' transcripts to be evaluated, causing them to miss the transfer window. The Call Center averaged 5-hour hold times and would drop everyone at the end of the day, regardless of how long they'd been waiting. During this period, MSU Denver went from being one of the first institutions in the state to award financial aid to the last.
The Great Resignation cost MSU Denver valuable talent and institutional knowledge. The University went through three enrollment leaders in three years. It also lost several Enrollment Management directors and most of its recruiting staff, inhibiting its ability to effectively recruit students. At one point, Student Affairs lost 25% of its staff and Financial Aid staff was operating at 40% of its typical staffing level.
Market competition increased. The University of Colorado Boulder and Colorado State, two universities that typically enroll significant numbers of out-of-state students, began focusing their recruitment efforts on in-state students, which had been MSU Denver's primary audience. As a result, MSU Denver's new student enrollment experienced a five-year slump, despite adding thousands of applications by participating in the Common App, an undergraduate college admission application that applicants may use to apply to over 1,000 member colleges in universities across the U.S., and Colorado Free Application Days, a statewide initiative held annually in October that allows students to apply for free to any of its 32 public colleges and universities as well as several private institutions.
On a Mission to Recover, Stabilize, and Launch
After the pandemic eased and the University returned to on-campus operations, President Davidson put the Enrollment Management Team on a three-year plan to Recover, Stabilize, and Launch.
To identify solutions to aid its enrollment recovery, MSU Denver engaged CampusWorks to conduct external reviews of IT, Registrar, Bursar, and Financial Aid. CampusWorks brought together members of the campus community to participate in listening sessions and share their perspective of what was working well, where improvements were needed, and what the ideal student experience would entail.
One of the most concerning discoveries was that staff had been voicing concerns for years that could have partially prevented the challenges at hand, but without a proper feedback loop, their vital input never made it to leadership.
The CampusWorks team triangulated the feedback among senior staff and provided them with process maps that provided a more realistic understanding of the student and staff experience at MSU Denver. This work helped them root out overly complex processes that resulted in the "roadrunner runaround," a common nickname inspired by the University's mascot, Rowdy the Roadrunner, to describe situations in which students are bounced from one department to the next, like the transcript evaluation process.
The resulting four strategies emerged:
1. Student Experience:
Automate the transcript and credit evaluation processes to build a culture of credit transfer.
Restructure financial operations, systems, and compliance.
Automate financial aid processing; invest in systems and technology.
Empower leaders to share solutions.
2. Financial Aid Automation
De-customize Ellucian Banner and remove university patches.
Augment IT staff with external support.
Implement Banner Workflows in Financial Aid to enable the awarding process to work more seamlessly.
Implement TDClient to make Financial Aid easier.
Create systems to drive meaningful student communications.
3. Staffing
Hire external Interim AVP.
Hire external Financial Aid Change Management Consultant / Interim Executive Director.
"Raise the floor" salary exercise.
Invest in training and professional development.
Change HR practices to make search committees optional for positions under the director.
Build a communications team to include staff at the Enrollment Management level and in Admissions, Registrar, and Financial Aid.
Create an alternative work arrangements policy to meet employees' needs.
4. Enrollment Recovery:
Streamline application by eliminating the application fee, making it quicker and easier to submit, and automating the admissions process to automatically admit high school graduates with a 2.6 GPA of higher.
Engage new students by holding several early registration pilots to allow students to meet with advisors early and register.
Host interest/identity events across campus.
Outsource Calling Center to influence 5,000 students to register for courses.
Funding outreach through the Free Application for Federal Student Aid (FAFSA) and the Colorado Application for State Financial Aid (CASFA) to reach undocumented students.
Increase foundation scholarships and award more scholarships.
Reimagine the Roadrunner Promise to distribute aid to more students.
Launch an Indigenous & Native Peoples' Grant.
Introduce tuition lock.
Focus on transfers by deploying marketing campaigns using geofencing to target students within relevant geographic areas.
Develop industry partnerships with companies, like Amazon, to help employees continue their education.
Participate in the state's Finish What You Started program to help students with some credit but no degree finish their degrees.
Leverage predictive analytics to steer interventions to get students to re-enroll.
Measurable Results:
To aid in the recovery, CampusWorks filled key interim leadership roles, which provided the University with an objective perspective of its challenges and bought them extra time to find the right people to fill the roles permanently. CampusWorks aided the search by helping MSU Denver identify and recruit its new chief enrollment officer and executive director of financial aid.
This partnership also helped move the needle in several key areas:
Reduced transcript evaluation time from 8 weeks to 1 week.
Reduced average Call Center hold time from over 5 hours to 10 minutes or less.
Increased new student matriculation by 5% in Fall 2022, ending the five-year slump.
Quadrupled the number of indigenous and native students.
Retention momentum is on the incline once again and is expected to reach pre-pandemic levels in the near future.
More staff stability with normal vacancy rates.
"Word on the street" student validation affirming improvement.
Increased applications by 1.12%, acceptances by 1.17% and registrations by 4.03% from Fall 2021 to Fall 2022.
MSU Denver's Lessons Learned:
Capacity concerns are real. Think outside the university by partnering with a firm to provide interim leadership and staff augmentation. External interims can create change faster, build trust, and get things done.
Identify the "canaries in the coal mine" of student experience. What are the first signs of trouble? Heed their warning.
Identify the "$150,000 Problems." In what areas do people think the institution is "too poor" to resource a solution? Investigate the cost and invest in solutions that will pay dividends in the long run.
Invest in people and listen to them.
Voice of the Client:
The depth of CampusWorks' external reviews was stunning. We got systems maps, proposals for restructuring org charts and redesigning processes. This level of insight told us not only what was wrong but also provided potential solutions to fix it.
– Dr. Will Simpkins, Vice President for Student Affairs
Watch the Replay
Hear Dr. Will Simpkins discuss MSU Denver's enrollment recovery journey. Watch the webinar replay »
Need Help with Enrollment?
When the numbers suddenly drop, having an objective third party with extensive leadership experience is a must. Recovery and sustainability go hand in hand. We're mindful of the fact that your team may be stressed, on the verge of burnout, or in need of objective feedback, so we work fast to develop thoughtful and concise plans that get you moving in the right direction and keep you going for years to come.