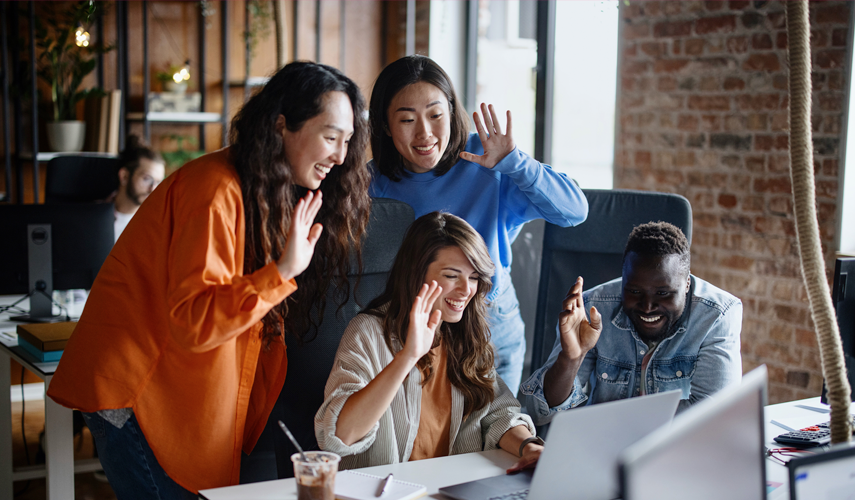 Thought Leadership
Happy Campus in a Hybrid World
CampusWorks wrote its last rent check in February 2013. Since then, we've been operating as a virtual company. During that time, we've grown from being able to count our employees on two hands to a team that's 300 people strong and counting.
The experience of transitioning from a bricks-and-mortar business to a virtual company has taught us how to collaborate across time zones and technology platforms. It's allowed us to recruit top talent across the country we wouldn't have been able to access otherwise. And it's shown us how to foster a tight-knit team dynamic despite the many miles between us.
When the pandemic forced colleges and universities to undergo a similar transition almost overnight, many leaders came to us with questions about how to function in this new world. They wanted to know how they could help their staff and students continue to work and learn when they could no longer be in the same room or building. They wondered if productivity would fall by the wayside and how they could keep tabs on employees and students they couldn't see.
Their questions prompted us to explore our own virtual workplace dynamics for answers. What we've realized is that creating a sustainable virtual or hybrid organization begins with three key ingredients: values, trust, and purpose.
In this article, we are sharing how these three ingredients have made it possible for CampusWorks to foster an award-winning culture, achieve high levels of accountability that have allowed us to grow our team and serve more institutions, and deliver outstanding results that help colleges and universities move the needle on student success—all while operating virtually.
Create a Culture Built on Values
At CampusWorks, our people-first culture earned us a coveted Great Place to Work® certification two years in a row. While we are proud of our amazing culture, it didn't happen by accident. It began by articulating and living our Guiding Principles:
Integrity and ethics are the basis for advancing our business.
If it is good for the client, it is good for CampusWorks.
Our people and results distinguish us.
We stop, think, and then go.
We do what we say.
We respect diversity, experience, innovation, and courage.
We are compassionate.
We are a team. You are never alone.
We work with, not around
These Guiding Principles aren't just nice maxims we post on our website; they are the core values upon which our culture is built. When a new team member joins CampusWorks, they receive a card that displays our mission, vision, and Guiding Principles. This begins to build awareness of our values and sets the tone from their first day on the job.
We weave these Guiding Principles into our daily work by encouraging our team members to nominate colleagues who demonstrate one or more of these values in their work. We celebrate these nominees at our monthly virtual All Hands meeting, culminating in the announcement of an annual Guiding Principles Exemplar Award, which reinforces these behaviors and keeps them top of mind.
We also incorporate our Guiding Principles into our performance management system. Every quarter and during annual performance reviews, employees assess themselves on how well they demonstrate our Guiding Principles. Managers reflect on employees' performance and rate them on how well they do, providing a constructive feedback loop that is constantly reinforcing our values and strengthening our culture.
And finally, our leaders demonstrate these principles every day through their actions and behaviors. In fact, CampusWorks' Trust Index Survey, which Great Place to Work administered to collect and analyze our employees' feedback during the certification process, revealed that 91% of our employees believe that CampusWorks' executives fully embody the best characteristics of our company.
Does your organization have strong values?
If your organization's culture is suffering in a virtual or hybrid environment, consider the following questions:
Does your organization clearly and regularly articulate its values?
Do your employees know what your organization's values are and/or where to find them?
How do you incorporate your organization's values into your team members' daily work?
How do you recognize or reward employees for exhibiting behaviors that align with your organization's values?
Treat People with Trust to Achieve Accountability
Many employers and supervisors worry that allowing employees to work from home means they won't be as productive. This can result in attempts to "keep tabs" on employees that may be perceived as micromanagement. On the flip side, working remotely can create challenges for employees who struggle to maintain healthy boundaries between work demands and personal time, which can lead to frustration and burnout. So, how do organizations strike the right balance?
According to 2022 Trust Outlook, a global research study conducted by the Trust Edge Leadership Institute, "Extending and earning trust will continue to be the critical factor for maximizing productivity in remote work."
Here at CampusWorks, we've found that treating our team members with trust returns higher levels of accountability and a willingness to go the extra mile. Our Trust Index Survey shows that 94% of our employees are willing to give extra to get the job done.
We extend and earn trust by maintaining and communicating policies that clearly outline how we operate and what we expect of our employees. Rather than attempting to "keep tabs" on our team members, managers focus on results by monitoring how much work employees are producing, the quality of that work, and the consistency with which they hit their deadlines.
We also hold quarterly goal-setting meetings that empower our team members to play an active role in their own growth by co-creating individualized professional development plans and SMART (Specific, Measurable, Achievable, Relevant, Timebound) performance goals designed to cultivate new skills and provide advancement opportunities. These meetings also create an opportunity for managers to check in with employees, review their progress, reinforce what's working well, and provide coaching to help them navigate any challenges they might be experiencing. This supportive approach not only ensures productivity levels are high, but it also earns employees' trust by helping them feel supported rather than micromanaged.
Does your organization earn and extend trust?
If your institution lacks a sense of individual and shared ownership of what's best for the organization, consider the following questions:
How does your institution establish and communicate its expectations of employees (e.g., availability requirements, dress recommendations, and video on/off preferences)?
How do supervisors monitor employee productivity?
What opportunities do you extend to employees to show trustworthiness with measurable results?
In what ways does your institution attempt to earn employees' trust?
Align People with Purpose to Achieve Results
Many leaders fear that a virtual or hybrid work environment will hamper business results and impact service. However, we've found the opposite to be true. In a recent survey of 65 clients, CampusWorks earned a rating of 9.2 out of 10 in client satisfaction (with 10 representing "extremely satisfied"), and 100% of respondents said they would refer CampusWorks to a friend.
We attribute this high level of client satisfaction, in part, to the strong alignment between our corporate values and our team members' personal values. Our Trust Index Survey revealed that 98% of our employees believe the work they do helps achieve the company's mission. This is not a coincidence. Purpose-driven employees create satisfied clients.
So, how can your institution achieve similar alignment between people and purpose? Jenn Lim, author of Beyond Happiness: How Authentic Leaders Prioritize Purpose and People for Growth and Impact, believes that alignment happens when everyone is able to answer the questions "What's in it for me?" and "What's in it for all?"
At CampusWorks, our mission is to collaborate with colleges and universities to develop and implement insightful strategies that improve institutional effectiveness and enhance the student experience. We ensure every team member, whether they are client-facing or not, can answer the questions "What's in it for me?" and "What's in it for all?" by regularly showing them how their work contributes to our mission.
One way we do this is by sharing and celebrating each other's successes. For example, when our team members help an institution develop and implement a Strategic Enrollment Management (SEM) Plan that increases enrollment, we share the story during our monthly virtual All Hands meeting and spread the good news in our employee newsletter and on our website.
At our recent in-person All Hands Meeting, we led a "Values Alignment" exercise that helped employees identify their personal values and discover how they align with CampusWorks' mission, vision, and Guiding Principles. This exercise connected the dots by showing our team members how their daily work aligns with their personal values while serving our collective purpose.
Are your people purpose driven?
If your organization is experiencing high staff turnover or struggling to deliver results, consider the following questions:
What do your employees value?
How do their personal values align with your organization's values?
How do you help your employees see the connection between their work and your organization's mission?
Are there specific values you should be on the lookout for when interviewing prospective employees?
Getting Back to Happy
While transitioning from in-person operations to a virtual or hybrid workplace can require some getting used to, it presents many opportunities to strengthen your culture, enhance productivity and accountability, and drive outstanding results. Becoming a happy campus in a hybrid (or virtual) world begins with building your "new normal" on a solid foundation of values, trust, and purpose. Integrate these three ingredients into your evolving organization and watch the positive changes that spread to your employees, organization, students, and community.
Need help developing a new plan to support your 'new normal'?
There's no doubt every plan needs to be re-evaluated post pandemic — and although the industry calls this "strategic planning," at CampusWorks, we realize one plan does not necessarily fit all. Depending on the challenges you currently face, "strategic adapting," "strategic acquisition," or "strategic expansion," might be more apt. And that's why we start by talking.
At CampusWorks, we believe meaningful conversations lead to sustainable, equitable solutions that help your college or university reach its full potential, so your students can too.
Are you going to be at AFIT Summer Institute? If so, don't miss our session, "Happy Campus in a Hybrid World."
About the Author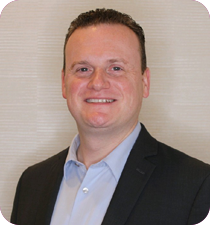 Kevin David, Ph.D.
Executive Account Director
CampusWorks
Dr. Kevin David is a higher education leader with teaching and administrative experience in community colleges and universities. A graduate of the Aspen Institute's Presidential Fellowship for Community College Excellence, Kevin holds a Doctor of Philosophy (Ph.D.) in Developmental Psychology from University of Oklahoma as well as a Strategic Planning Certificate from the Society for College and University Planning (SCUP). He is also a Prosci® Certified Change Management Practitioner and Trainer.