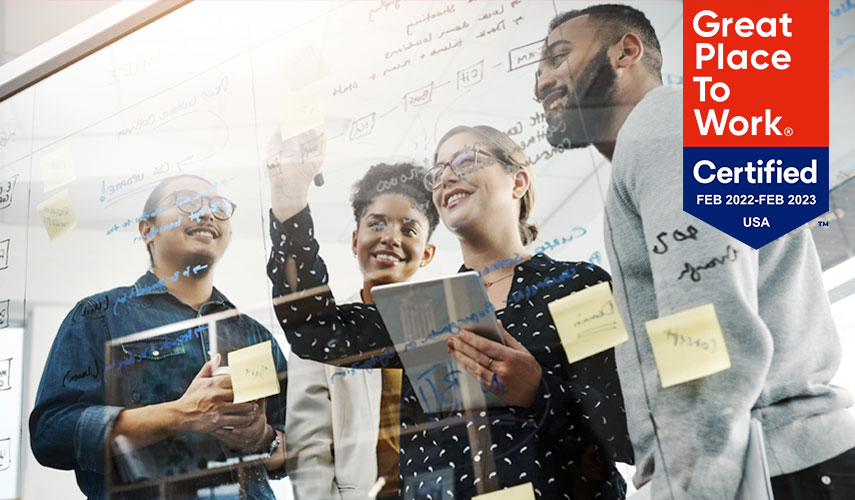 News
'People-First' Approach Makes CampusWorks a Great Place to Work®
for Second Year in a Row
Bradenton, FL – May 17, 2022 – Today CampusWorks announced its re-certification as a Great Place to Work®. This marks the second year in a row CampusWorks has earned this prestigious designation, which is recognized worldwide by employees and employers alike and is the global benchmark for identifying outstanding employee experiences.
At a time when the Great Resignation has reached new depths and many employees are actively searching for new job opportunities, 95% of CampusWorks employees report they are proud to tell others they work here, and 98% feel the work they do helps achieve the company's mission.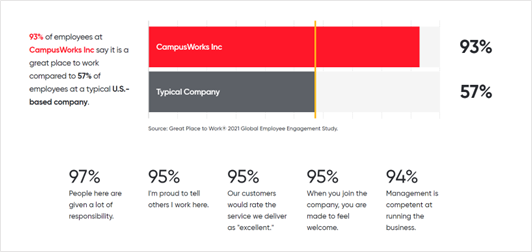 "I could not be prouder of the employee-first culture we've created at CampusWorks," says Liz Murphy, CEO and chairman of the board at CampusWorks. "As a professional services organization, we are our people. It's critical they have an outstanding experience so they can deliver the same for our clients. Earning this certification two years in a row is powerful validation that our values and culture foster a workplace where everyone can thrive."
According to Great Place to Work research, job seekers are 4.5 times more likely to find a great boss at a Certified great workplace. Additionally, employees at Certified workplaces are 93% more likely to look forward to coming to work, and are twice as likely to be paid fairly, earn a fair share of the company's profits, and have a fair chance at promotion.
"Great Place to Work Certification™ isn't something that comes easily" says Sarah Lewis-Kulin, vice president of global recognition at Great Place to Work. "It takes ongoing dedication to the employee experience."
CampusWorks' employee experience is shaped by the company's Guiding Principles—nine values rooted in ethics, accountability, teamwork, and trust that inspire how its team members show up for clients and each other.
"I think CampusWorks is a great place to work because we're driven by our clients' success, which ultimately leads to student success," says Steven Schuetz, associate vice president of student services at CampusWorks. "Each project is a new adventure. We get to know the institution, its mission, vision, and market context, and then we develop and deliver customized solutions. In doing so, I get to work alongside an incredible group of passionate, talented, critical thinkers who unselfishly share their expertise and celebrate each other's success."
CampusWorks is honored to be recognized by our employees as a Great Place to Work for the second year in a row.
WE'RE HIRING!