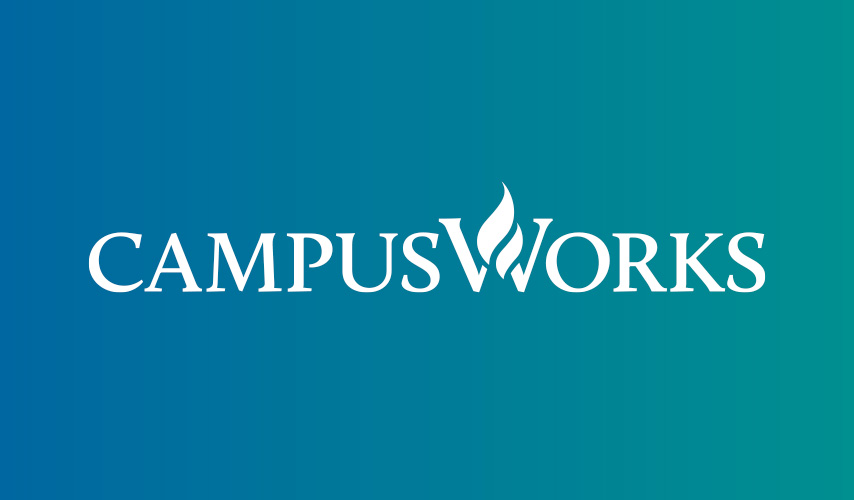 Solving the Top 10 IT Issues of 2019
CampusWorks Has Solutions for the Year's Most Pressing Challenges
Once again, EDUCAUSE has harnessed the collective wisdom of higher education professionals to identify the Top 10 IT Issues facing colleges and universities this year. Industry leaders and decision makers use this list to identify what's important and where to focus in their planning and management activities. At CampusWorks, we use it to refine our services and strengthen our team to ensure we're offering the most valuable, relevant solutions to help colleges and universities overcome today's most urgent challenges.
Below is an overview of the top 10 IT issues facing higher education in 2019 and a preview of CampusWorks' solutions. For a closer look at this year's themes—empowered students, trusted data, and 21st century business strategies—which EDUCAUSE has dubbed the "Student Genome Project," please download the whitepaper.
1. Information Security Strategy: Developing a risk-based security strategy that effectively detects, responds to, and prevents security threats and challenges.
Developing a strong information security strategy begins with understanding your weaknesses. CampusWorks' IT Security Assessment helps colleges and universities identify, evaluate, and address cybersecurity risks and vulnerabilities through a comprehensive seven-point evaluation:
Internet-based threats assessment and penetration testing
Network infrastructure assessment
Critical network and computing assets assessment
User computing environment assessment
Physical and environmental security assessment
Wireless network security assessment
Policies, procedures, and documentation assessment
Once the IT Security Assessment is complete, CampusWorks' chief information security officer (CISO) will share the preliminary findings and provide a framework for addressing security threats.
Learn how CampusWorks can help you develop and implement an effective information security strategy »
2. Student Success: Serving as a trusted partner with other campus units to drive and achieve student success initiatives.
Student success isn't limited to learning, it includes every facet of the educational journey. When one department isn't operating efficiently it can affect the entire institution and, in turn, impact the student experience. CampusWorks' Functional Area Assessment works with all departments—from Student Services to Human Resources to Finance and Academics—to help you optimize important functions like admissions, registration, financial aid, academic advising, instructional design, student finance, payroll, hiring, budgeting, accounting, and more. Our team of functional and technical experts will evaluate each department's operational efficiency, ability to interact with other functional areas, and quality of student services. By carefully examining your institution's business processes and technology usage, we can uncover deficiencies, and identify improvements.
When the Functional Area Assessment is complete, your team will receive a final report detailing our findings and recommendations as well as a roadmap to help you strengthen each department. If your institution is dealing with a specific symptom—like long lines outside the Financial Aid Office, a network that crashes during registration, or a cumbersome hiring process that frequently costs you new talent—we can send in specialists to diagnose the problem and develop a targeted solution. When our work is complete, your functional areas will be optimized and integrated to support student success.
Learn how CampusWorks can help you drive student success »
3. Privacy: Safeguarding institutional constituents' privacy rights and maintaining accountability for protecting all types of restricted data.
It's challenging for any organization to continually monitor and prevent increasingly sophisticated security threats, but this is especially true of budget-strapped colleges and universities. CampusWorks' Collaborative Services now make it possible for all colleges and universities to access affordable information security leadership by offering these resources on-demand and allowing institutions to use as much (or as little) as they need—and pay accordingly. Collaborative Services give institutions the ability to "turn on and off " technology services, like cybersecurity leadership, giving them access to all the technical support they need for a fraction of the cost by taking significant overhead out of the equation.
Learn how CampusWorks can help safeguard your data »
4. Student-Centered Institution: Understanding and advancing technology's role in optimizing the student experience (from applicants to alumni).
Business processes are at the heart of every college and university. They are designed to serve students and help them succeed, but over time they can evolve organically and unsystematically as institutions try to keep up with the dramatic changes taking place in higher education. Eventually, these processes end up hindering the very students they were designed to help.
CampusWorks' Process Reimagine & Redesign can help you understand how your institution is currently using technology and how to optimize it to support student success. Every PRR begins with the end goal in mind. By first defining what student success should look like, CampusWorks can help you eliminate operational barriers that stand in the way. Since admissions, academic advising, registration, and financial aid all contribute to the student experience, we believe that every department should work together to create an academic atmosphere that supports students as they navigate your institution's processes and procedures. To achieve this, CampusWorks facilitates participation among faculty, staff, and students to get a broad understanding of the current student experience and create a shared vision of the desired experience. Our best-practice methodology ensures a consistent approach across all evaluated areas and resources.
Learn how CampusWorks can help you cultivate a student-centered institution »
5. Digital Integrations: Ensuring system interoperability, scalability, and extensibility, as well as data integrity, security, standards, and governance, across multiple applications and platforms.
When your administrative system is aligned with your institution's goals, powerful results are possible. However, in time, even the most successful ERP implementations can diverge from their initial goals and become mired in inefficiency.
CampusWorks' Enterprise Resource Planning (ERP) Assessment helps colleges and universities identify where their administrative systems are underutilized and make decisions about ERP, customer relationship management (CRM), and learning management system (LMS) upgrades, process changes, training, and/or new investments that will realign the ERP system with the institution's goals, enhance functionality, ensure interoperability, scalability, and extensibility, and provide an optimal student experience.
Learn how CampusWorks can help you get the most out of your ERP system »
6. Data-Enabled Institutional Culture: Taking a service-based approach to data and analytics to reskill, retool, and reshape a culture to be adept at data-enabled decision-making.
Colleges and universities rely on data and analytics to help students succeed academically, inform strategic decisions, and improve operations. It's critical to ensure that your current reporting solutions are aligned with your institution's goals and are being used effectively to meet your community's reporting and analytical needs.
CampusWorks' Data, Analytics & Reporting (DAR) Assessment helps institutions achieve a data-enabled culture by providing insight into how the current DAR environment is being used, highlighting strengths and weaknesses and identifying opportunities to better leverage these investments.
Learn how CampusWorks can help your institution achieve a data-enabled culture »
7. Sustainable Funding: Developing funding models that can maintain quality and accommodate both new needs and the growing use of IT services in an era of increasing budget constraints.
When an institution's financial resources are limited, IT operations often fall prey to budget reductions, which affect the entire organization and can impact the student experience.
CampusWorks' Strategic Technology Planning helps colleges and universities improve their business models through the effective and cost-efficient use of technology solutions. Our strategic technology planning methodology is integrated, holistic, and tailored to your institution's specific needs and unique culture. Our framework includes a broad look across the organization and a candid review of the current state, envisioned future, and what's possible.
Learn how CampusWorks can help you get the most value from your IT environment »
8. Data Management & Governance: Implementing effective institutional data-governance practices and organizational structures.
Data is not only critical to state and federal reporting, it's also the driving force behind the strategic decisions guiding the future of your institution. CampusWorks' Data Standards Process Reimagine & Redesign (PRR) can help you manage your institution's data and ensure integrity. During this engagement, CampusWorks' team of experts will conduct a holistic review of how your institution currently uses data, its degree of accuracy, and how your processes can be optimized for successful data management and stewardship. This analysis includes a review of state and federal reporting as well as primary data reports used to make strategic decisions.
As a result of participating in CampusWorks' Data Standards PRR, your institution will be on a path to identify and remediate data discrepancies, standardize how data is entered into your enterprise resource planning (ERP) system and associated systems, establish a data dictionary and define how it is maintained and used, and improve the effectiveness of data stewardship across the institution.
Learn how CampusWorks can help you effectively manage and govern data »
9. Integrative CIO: Repositioning or reinforcing the role of IT leadership as an integral strategic partner of institutional leadership in supporting institutional missions.
Information technology plays a key role in helping an institution achieve its goals. But when IT is not seen as a strategic partner in supporting the institution's mission, it can become reactive—focused on fixing problems—rather than proactively planning and implementing strategies to support student success.
CampusWorks' IT Staff Assessment begins with a comprehensive review of the IT organizational structure, evaluating staffing allocation and workload to determine if the current model is
set up to meet your institution's goals and objectives. It will identify areas where you need additional support and training to meet those needs. It will also help you recognize areas where technology can be used to automate manual processes and reduce workload so your staff can shift their focus to higher priority tasks. When the project is complete, you will receive a final report with actionable
recommendations to help optimize IT and elevate it as a strategic partner within the institution.
Learn how CampusWorks can help transform your IT organization »
10. Higher Education Affordability: Aligning IT organizations' priorities and resources with institutional priorities and resources to achieve a sustainable future.
Whether you're a technology guru or not, it can be challenging to know whether your IT investments are delivering the maximum return on investment. CampusWorks' Second Opinion Technology Assessment provides an objective evaluation of your institution's current technology infrastructure, helping you to recognize deficiencies, identify areas of improvement, and uncover cost-saving opportunities.
When the project is complete, your team will have a better understanding of the current IT environment, a roadmap for increasing efficiency, and a framework for making IT investment decisions.
Learn how CampusWorks can help you align IT with your institution's goals »
Download the White Paper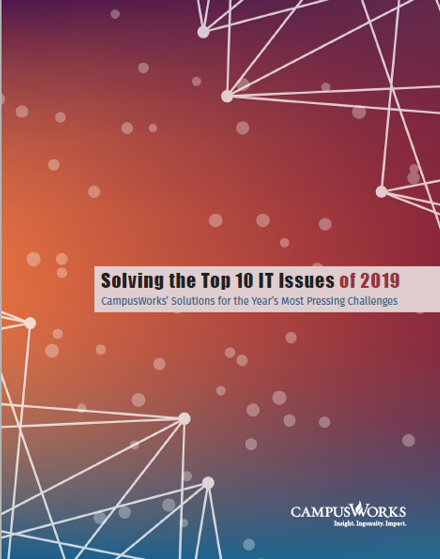 According to EDUCAUSE, higher education's collective focus in 2019 is to organize, standardize, and safeguard data before applying it to our most pressing priority: student success. They've categorized this year's top ten IT issues into three main themes—empowered students, trusted data, and 21st century business strategies—dubbing it "The Student Genome Project."
Download CampusWorks' whitepaper, Solving the Top 10 IT Issues of 2019, to learn more about The Student Genome Project, this year's IT issues, and solutions for overcoming them.
About CampusWorks
Since 1999, CampusWorks has been helping colleges and universities optimize operations to support student success, enable data-driven decision making, and remain relevant and competitive. Armed with decades of higher education leadership experience and expertise, CampusWorks brings valuable insight, creative thinking, objective recommendations, and a student-centered approach to every challenge. We have solutions to help you tackle these top 10 IT issues and more.
---
Source: Grajek, Susan (2019, January 1). Top 10 IT Issues, 2019: The Student Genome Project. Retrieved from https://er.educause.edu/articles/2019/1/top-10-it-issues-2019-the-student-genome-project