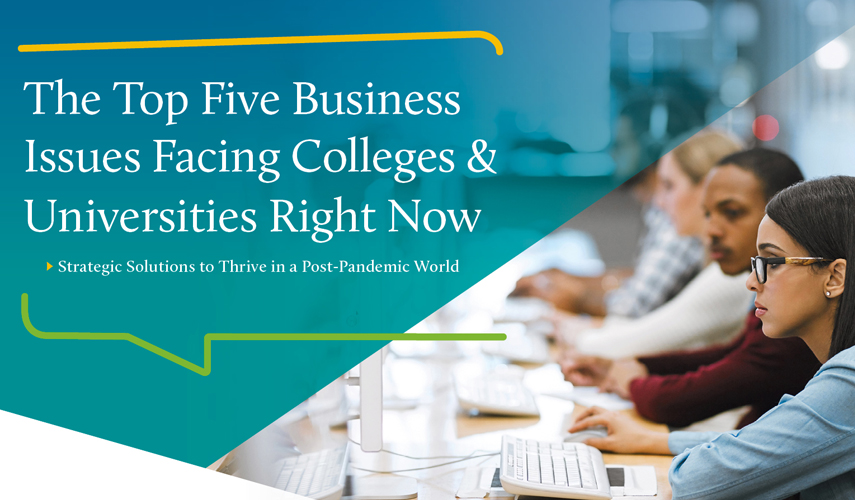 Enterprise Solutions
The CFO Guide to Solving Higher Education Business Challenges
Welcome to Your New Reality
As colleges and universities emerge from a world defined by pandemic-related restrictions, an influx of emergency funding, and remote work, chief financial officers (CFOs) are navigating what it means for their institutions to operate—and thrive—in this new reality.
According to the National Association of College and University Business Officers (NACUBO), the top five business issues facing colleges and universities right now are:
Supporting and Maintaining the Workforce
Meeting Students' Evolving Needs
Providing a Secure and Modern Technology Infrastructure
Managing an Uncertain Economic Climate
Navigating Resource Constraints
In this guide, we'll explore the current financial and planning challenges facing higher education and discuss strategic solutions that can help you ensure your institution's long-term sustainability and success.
Is Your Institution Prepared to Rise to the Challenge?
Drawing on more than 20 years of experience collaborating with colleges and universities to improve institutional effectiveness and enhance the student experience, CampusWorks' new e-book offers strategic solutions to help you address the top business challenges facing higher ed right now.
Download the e-book: The Top 5 Business Issues Facing Colleges & Universities Right Now: Strategic Solutions to Thrive in a Post-Pandemic World »
This complimentary CFO resource provides practical advice on a range of topics, including:
Questions to ask to determine if your organization is staffed for success.
Hidden opportunities created by leadership vacancies.
Strategic staffing solutions for navigating the talent shortage and periods of high turnover.
Tips for optimizing your enrollment funnel.
How to leverage your data and systems more effectively to improve service and drive outcomes.
Opportunities to reduce waste, increase efficiency, and reclaim your institution's competitive advantage.
Strategic Solutions to Thrive in a Post-Pandemic World
While our new reality may be rife with challenges, you can rise to the occasion by understanding what the future will demand: maximum return on investment from both systems and staff, highly optimized business processes and operations, the ability to leverage data as a strategic advantage, and an unwavering commitment to the student experience.
CampusWorks will show you the way.
Complete the form below to access the CFO Guide to Solving Higher Education Business Challenges.