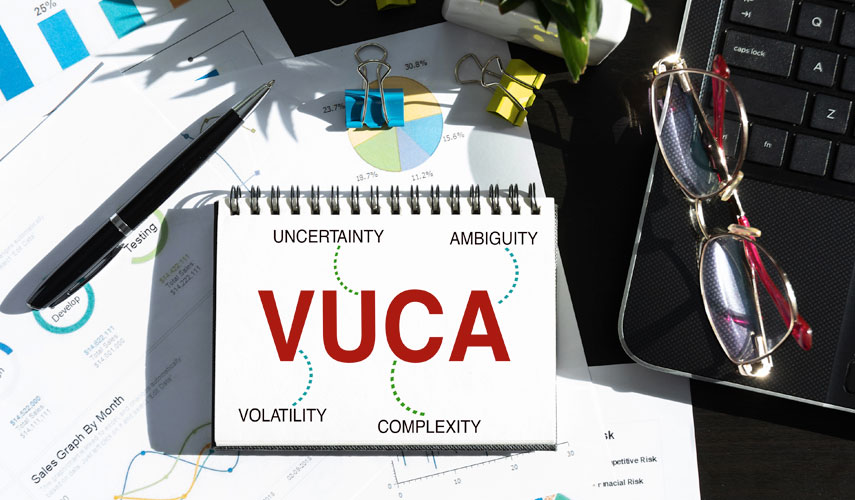 Thought Leadership
Leading Your Institution Through a 'VUCA' Landscape:
Strategies for Higher Ed Leaders
In today's dynamic higher education landscape, we find ourselves navigating a "VUCA" world — one characterized by its inherent volatility, uncertainty, complexity, and ambiguity. Originally coined in the military to describe the swift and unpredictable shifts in a post-Cold War era, the concept of VUCA has transcended its origins, resonating powerfully with visionaries across academia and industry alike. Leaders at the helm of these organizations stand at the intersection of formidable challenges and transformative opportunities. 
In this article, we will examine five headlines that have reverberated across higher education over the past year, sparking seismic waves of change — and we'll explore strategies you can employ today to navigate these transformative tides. 
Recent Headlines
"Divided Supreme Court outlaws affirmative action in college admissions, says race can't be used"
Summary: In a landmark decision, the U.S. Supreme Court ruled that the race-conscious admission policies employed by Harvard and the University of North Carolina are unconstitutional, effectively marking the end of affirmative action in higher education. Described as a "turning point in higher education" by Education Secretary Miguel Cardona, this influential judgment is poised to create a ripple effect at institutions across the nation, requiring them to revise their admissions policies to align with the new legal requirements to avoid the risk of losing federal funding or facing penalties while seeking new ways to achieve diverse student bodies. 
Essential Next Steps:  
Review your institution's current application and admissions policies and processes to gain a comprehensive understanding of the potential impact this ruling may have on your organization. Conducting a

Process Reimagine & Redesign (PRR)

can help ensure that your institution's policies and processes are both compliant and aligned with your strategic objectives. 

 

Leverage the insights gained from the PRR to inform a

Strategic Enrollment Management (SEM) Planning

initiative that reevaluates and adjusts the institution's enrollment strategies to ensure a balanced, inclusive student body and an enriching, equitable educational experience for all students. 

 
"The Higher Ed Talent Crisis: New Research Shows More Than Half of College and University Employees Say They Are Likely to Look for Other Employment in the Near Future"
Summary: Higher education institutions are in the midst of a talent crisis, according to new research from CUPA-HR. Initial results from the 2022 Higher Education Employee Retention Survey indicate that many staff, professionals, and administrators are considering other employment opportunities due to dissatisfaction with their pay, their opportunities for advancement, their institutions' remote and flex work policies, and more. 
Strategic Course of Action:  
The departure of a technical or functional leader creates an opportunity to revitalize the department. Address key vacancies by placing an

interim leader

in the role who can conduct an objective assessment of the department's operations, lead optimization initiatives, and implement best practices. These improvements will not only make the organization more attractive to job candidates, but they will also enhance the new leader's chances of success and contribute to greater job satisfaction.

 

If critical technical or functional support is in short supply, it can hinder your organization's progress. Rather than allowing key positions to remain vacant, leverage

Staff Augmentation

to shore up the skills and knowledge needed to continue advancing your institution's mission. 

 
"Why Universities Are Seeking Help Managing Their IT Environments"
Summary: In the 2022 Survey of Campus Chief Technology/Information Officers, conducted by Inside Higher Ed and Hanover Research, 51% of CIOs say they are having difficulty hiring new technology workers, and 62% struggle to keep employees. In addition, 53% of CIOs reported that more flexible remote work policies were among the biggest factors contributing to difficulties hiring technology employees. As institutions adapt to remote work and IT skills shortages, they are turning to third-party assistance to manage security threats and software licensing. 
Critical Actions:  
Partner with a

Managed Services

provider to lead IT and supply the skills and uninterrupted support your institution needs to advance IT maturity, modernize technology infrastructure, improve cybersecurity, and foster a service-focused culture with strong communication.

 

Leverage

Application Managed Services

to gain access to hard-to-find-talent, like seasoned enterprise application experts who specialize in the effective operation and management of the enterprise systems that power your institution — including the enterprise resource planning (ERP) system, student information system (SIS), constituent relationship management (CRM) system, and learning management system (LMS).

 

Secure

Staff Augmentation

support to ensure your IT team has the capacity to provide timely technical support, proactively maintain key systems, address security vulnerabilities, support technology adoption, ensure process efficiency, and effectively manage the institution's data. 

 
"MOVEit Attack Signals Growing Cybersecurity Threats for Higher Ed"
Summary: In May, a ransomware group called CIOp launched a massive cyberattack against hundreds of organizations, including higher ed institutions. By exploiting a vulnerability in the file transfer software known as MOVEit, the group stole data affecting millions of people. Cybersecurity experts believe that this success will lead to more attacks against vulnerable institutions. 
Top-Priority Tasks: 
"FAFSA Launch Officially Delayed"
Summary: The Free Application for Federal Student Aid (FAFSA®) Simplification Act, passed by Congress in 2020, aims to simplify the underlying formula used to determine eligibility for federal student aid. The new Simplified FAFSA application form for 2024-25 was expected to be released on October 1, as it has been since 2016, but delays have pushed its release to December 2023, which will compress the time frame for aid and admission applications and decisions. 
Immediate Priorities: 
Determine whether your campus is ready to implement the new FAFSA by knowing what questions to ask your Financial Aid Office and what training resources are available to your team. CampusWorks' Financial Aid experts have developed a free guide to help you get started:

FAFSA Simplification: Is Your Campus Ready? »

 

Conduct a

FAFSA Readiness Evaluation

to identify and prioritize key initiatives to ensure your organization is on track to support the implementation and rollout of the new FAFSA. 

 

Leverage

Interim Leadership and Staff Augmentation

to gain access to Financial Aid leadership, change leaders, project managers, and IT support to ensure your team has the resources needed to support the implementation and roll out of the new FAFSA.

 
Navigating a VUCA Future
As these headlines illustrate, today's leaders are facing substantial demands. CampusWorks offers a robust portfolio of optimization services, enterprise solutions, and technology management support to help you respond quickly and create a resilient organization that can rise to the challenges ahead.  
Need help navigating the future?