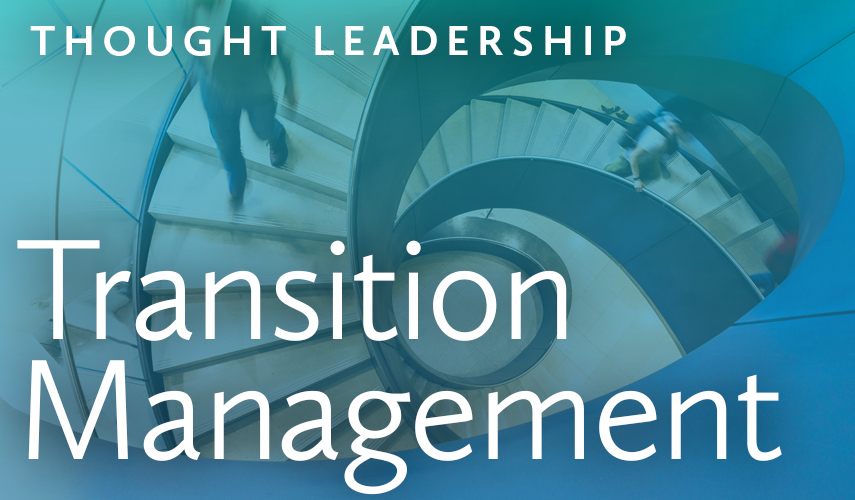 Thought Leadership
What Higher Ed C-Suite Leaders Need to Know About Transition Management
According to EDUCAUSE's recent study, "More than 'Going Live': Achieving Institutional Transformation through ERP Implementation," which CampusWorks sponsored, more than half of institutions believe that establishing a change management plan is a key preparation when implementing a new ERP system, yet it's one that is often skipped.
At CampusWorks, we think of this work as "transition management" because it's ongoing, not a point-in-time activity. According to Bridges Transition Model, "Change is the external event or situation that takes place. Transition is the inner psychological process that people go through as they internalize and come to terms with the new situation that the change brings about." Therefore, in the case of an ERP implementation, transition management focuses on the human side of technological change, accounting for the range of emotions that people experience when moving from one system to another and incorporating communications and resources to help them adapt.
These graphs illustrate EDUCAUSE survey data results regarding change management at various stages in the ERP implementation process:
Establishing a change management plan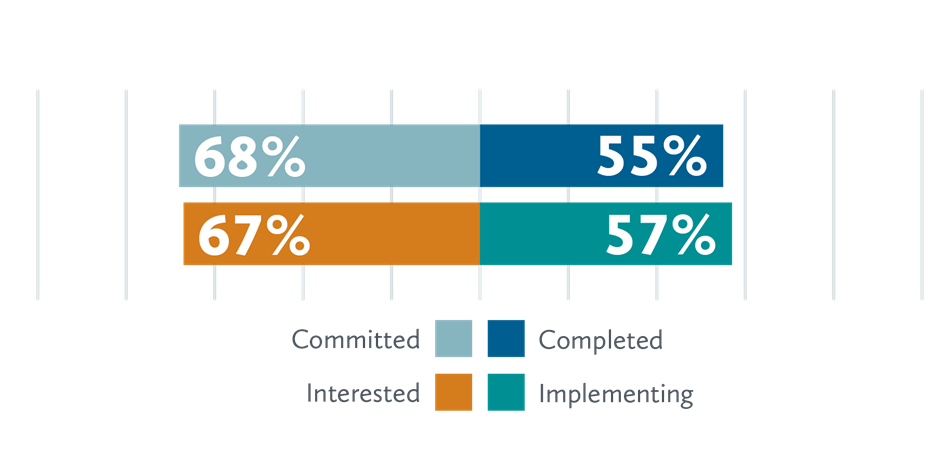 Institutional culture and readiness for change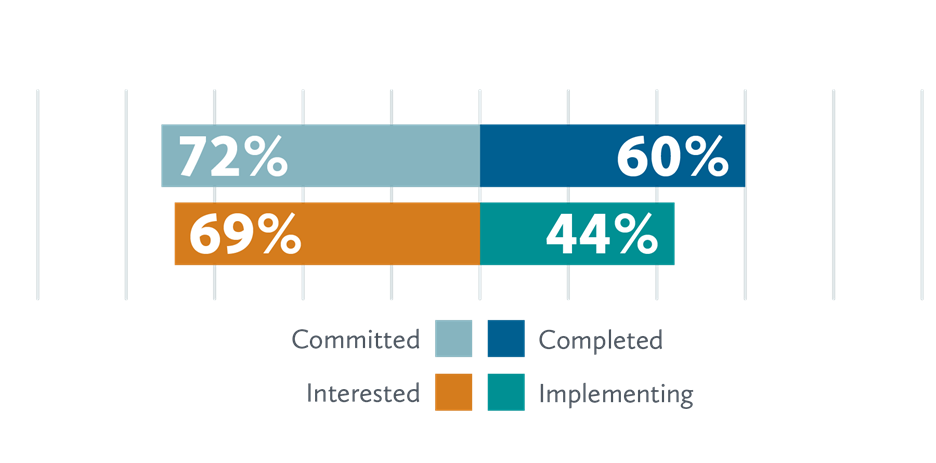 Leadership/staff resistance to change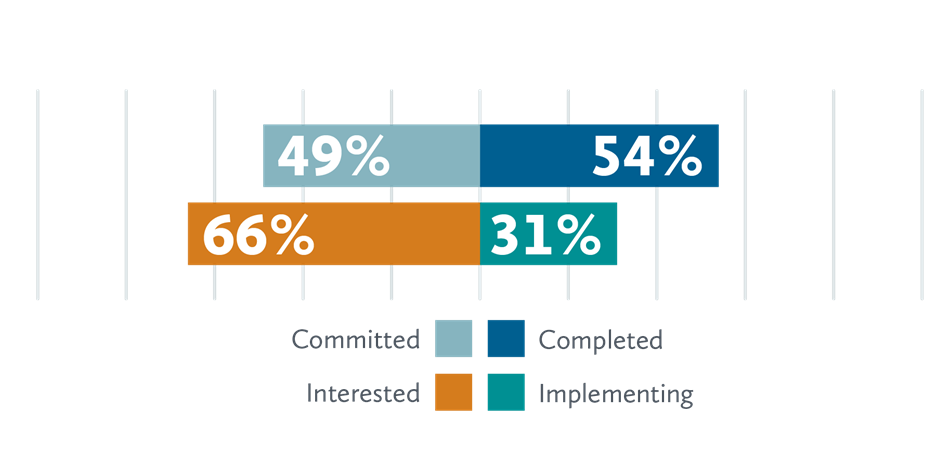 Transition management is vital to the success of any ERP implementation because, as the EDUCAUSE study revealed, the top two challenges institutions encountered when implementing a new ERP were related not to technology, but to people. Sixty percent of survey respondents identified "institutional culture and readiness for change" as their top challenge while 54% reported "leadership/staff resistance to change."
To give you a firsthand understanding of why the human element is so important to an ERP implementation and how to address it, we sat down with CampusWorks senior ERP optimization executive and client transition manager Stacy Crotser. In this interview, Stacy shares some of the insights she's learned from her experience managing transitions across countless ERP implementations.
CampusWorks: What is transition management and why is it important?
Stacy Crotser: Think of transition management like building a boat to get to a destination. To build the boat, you gather materials, design the boat, and then build it. That's project management. To get to your destination using the boat, you must get your people in the boat and have them all rowing in the same direction. That's transition management.
Similarly, during an ERP implementation, it's easy to get the technology once the new processes are in place. It's not easy to get people to adapt to new technology or processes.
Our clients know they need change; we help them understand that a successful transition involves helping their people change too.
CampusWorks: In today's shift towards online and other flexible learning methods, why is it necessary for higher ed institutions to be more receptive to change? And why should they leverage transition management to achieve their desired change?
Stacy Crotser: Historically, higher education institutions have changed at a slower pace than other industries. But today's students are used to rapidly-changing technologies, and they are used to dealing with organizations that embrace those changes quickly.
The best example of this is the mobile device. Students expect everything to be available on their mobile device, yet many higher education institutions still do not deliver a seamless mobile experience for their students. Many students don't check email; they want to communicate by text. But some colleges and universities have not updated their communication methods. Most institutions, except for those that were already 100% online before the COVID-19 pandemic, are not equipped to fully lean into online learning. They can do it to some extent, but most degrees are still not available completely online. COVID changed that and it became a "do or die" situation. They had to quickly pivot and adapt to technology they were probably not prepared for with an ill-equipped IT infrastructure. Naturally, this caused a great deal of stress for everyone from employees and faculty to students.
The institutions that weathered the storm hired a transition manager to help navigate those changes, including upskilling faculty and staff. For example, faculty needed to learn how to teach an online course, and almost everyone needed learn how to use Zoom. Staff needed assistance in their heroic efforts to procure and implement new technology and then teach employees, faculty, and students how to use it. They worked closely with leadership to walk everyone through that change, and while it may not have been the best approach, they got it done.
After a scenario like COVID, my job is to do all of that but in an easier, less stressful way — and hopefully not in such a dramatically compressed time frame!
CampusWorks: Do you feel that higher education institutions are inherently resistant to change?
Stacy Crotser:  It's unusual to come across a client who has had project management support in previous implementations. It's even rarer to find those who have had transition management support. Part of the challenge is that the concept of transition management is not well understood, which has led to a history of failed changes. That, in and of itself, can greatly impact future changes.
Higher education institutions tend to employ people who have been around a long time, and those people have long memories of previous failed changes. You must be ready to overcome those hesitations for the project to be successful.
CampusWorks: How do you encourage those who are resistant to change?
Stacy Crotser: Resistance to change — that is, not wanting to change for the sake of not wanting to change — or what appears to be resistance to change can vary by person and requires an intentional approach.
First, you need to identify what is causing the resistance. It could be that the employees are experiencing change fatigue; they have experienced too many changes recently and just can't handle another. In a case like that, you might look at what is going on within a particular employees' sphere of work or stakeholder's group and try to minimize the changes they have been experiencing so they can better adapt to those changes. Another cause of resistance is a history of failed changes, which can create an apathetic attitude. The employee might think "we've tried this before and it didn't work, so why should I even bother trying this change again?" This is harder to address but involves engaging leadership and a concerted effort at communication from leaders to all employees involved in the project.
Secondly, all implementations need strong communications that address why the change is happening and states the goals of the change. Employees want to know what's in it for them, how their job responsibilities will be affected, and how it is going to impact them. At the beginning of the project, some of these questions are unknowns, so communication throughout the project is key. If you don't know the answer, say so, but also tell them that you will keep everyone updated throughout the project. The transition manager must work with the project sponsor to help with communication throughout the implementation process, so employees understand the importance of being active and visible participants in the process and that leadership is setting the goals and direction of the project.
Lastly, transparency and a strong sponsor at the institution are of utmost importance to ensure employees trust leadership around a change and for the project to be successful. Employees don't want to hear from the project manager, they want to hear from their Leadership may not always be directly involved but they need to be heard talking about the project, they need to embrace the project, and they need to be an active participant in the process. If leadership is viewed as not caring about the project, the employees will not care about the project.
If all areas are not aligned, there will be confusion and unclear direction. Using the boat analogy, if leadership says, "we want to cross the water" without clear direction and participation, one team thinks "we are going to the island on the left" and the other team thinks, "we are going to the island on the right." Leadership must take the lead by providing clear direction, "we are all going to that island" and explain why that is the best island.
CampusWorks: When is transition management needed?
Stacy Crotser: Transition management is vital when implementing any new technology or during times when people need to change the way they are doing something, like the rapid shift to online operations during the pandemic.
ERP implementations require communication, coordination, and an understanding of what's going to change in each area so the transition manager can address those changes and help people through them. With so many moving parts, every ERP implementation is different. That's why they usually only happen every 20 years or so because it's difficult, expensive, and involves a lot of changes.
I am currently the transition manager for a full ERP implementation, which requires me to manage the institution's people and their emotions during the changes that come about during the project. In my experience, the need for transition management is there in both normal times as well as during a crisis. While the processes are the same, the timeline and circumstances are different.
CampusWorks: What frameworks and skill sets are needed for employing transition management in an institution?
Stacy Crotser: There are many transition management frameworks out there, but we tailor each process to the organization, their intended changes, and their culture. When I come in, I try to understand who the stakeholders are and what the culture is like. I work with executive sponsors and leadership to set the direction of the project so I understand the goals and objectives of the project, why they need the implementation, what they want to get out of the implementation, and who the different stakeholder groups are, as well as the changes that will impact those stakeholders. I make a stakeholder registry to keep track of everyone and document each step. Then, we meet once a week to discuss change impacts over the last week. I record those and use them to influence the training and job aids we develop, then craft all communications to let everyone know where we are in the process, what changes have been made, and what the impact has been.
The framework is not just about how I do the process; it's about how that process is flowing through the business, how the institution is going to access the data in the new system, how the process is affecting the stakeholders, and how to train everyone on the new changes. Other tasks include writing monthly newsletter articles, crafting progress communications to leadership and stakeholders, and assessing communication channels to make sure all stakeholders are reached. I also plan and organize upcoming road shows as we get closer to go live and keep office hours for questions or concerns. As we start to understand what the systems and processes will look like, I gather and compile information and then go to the users to make sure they are ready and able to use the new system effectively when the time comes.
Final Thoughts
As you can see, a transition manager's role is extensive and embedded throughout the ERP implementation from start to finish. Higher education institutions that are facing a large, complex implementation will set themselves up for success by employing the help of an experienced transition manager.
If you are ready to start the conversation about utilizing transition management at your institution, let's talk.
"While technology plays a crucial role in driving change and streamlining processes, it's the human factor that demands unwavering focus throughout the entire ERP implementation journey."