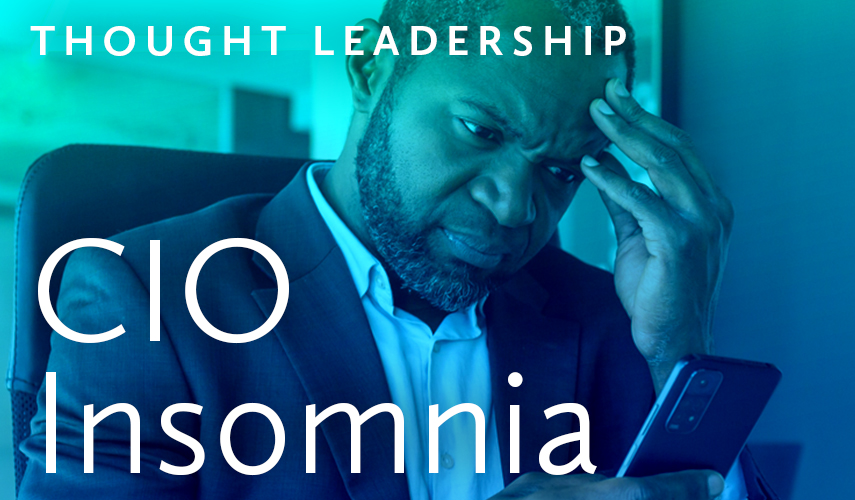 Thought Leadership
CIO Insomnia: Six Issues

Keeping

Higher Ed

CIOs

Up at Night
A

Technology

Leader

'

s Guide

to

Navigating

a Changing

Landscape
Gone are the days when a chief information officer (CIO) was primarily responsible for delivering a stable and secure technology environment. Today's technology leaders must be visionary strategic partners for the institutions they serve while delivering a frictionless, technology-enabled student experience. As CIOs rise to the occasion, many find wicked challenges waiting — from IT staffing shortages to increasingly sophisticated cybersecurity threats to the need for digital transformation and beyond.
If the challenges of the CIO job keep you up at night, you're not alone. According to our research, these six of  the top issues causing CIO insomnia as well as strategic solutions that can help put your mind at ease: 
#1. Aligning IT strategy with the institution's priorities.
As the institution's strategic plan evolves to respond to changing learner and workforce needs, CIOs must adapt the IT strategic plan and resources to support the institution's vision with a focus on increasing efficiency, providing the best service, and containing costs — which can be a challenge triad to balance. 
CampusWorks can help: planning and advisory services, IT strategic planning, IT/tech assessments, business process design and optimization, data governance, project management  
#2. Future-proofing the IT workforce.
CIOs are battling dual problems when it comes to building a solid, reliable IT team: the ability to  offer competitive pay, benefits, flexible work models, and perks that attract in-demand talent, and the ability to foster a workplace culture that retains talent. CIOs can become internal heroes by utilizing emerging workforce strategies that ensure the institution has a stable supply of skilled IT talent supporting its ever-evolving needs.  
CampusWorks can help: organizational assessment, interim IT staffing, technology support, IT staff on-demand, IT professional services, shared services, data support 
#3. Ensuring cybersecurity in an increasingly interconnected world.
It seems a day doesn't go by without news of a cybersecurity attack on a higher ed institution. The threat is real, and the frequency of attacks is increasing, creating significant risks for institutions and their data, networks, systems, financial resources, and reputation. CIOs must be vigilant in implementing proactive strategies and processes to thwart hackers and prevent a breach.   
CampusWorks can help: cybersecurity assessment, CISO shared services, interim CISO, cybersecurity staff on-demand, network administration, technology assessment, systems analysis 
#4. Optimizing the student experience for successful outcomes.
We live in a technology-driven world, which has increased students' need for real-time access to everything from the application, financial aid, and registration processes to campus resources and course materials. In light of this, it's crucial that your institution's systems and processes are streamlined to offer a frictionless student experience that empowers their success. 
CampusWorks can help: enrollment assessment, Strategic Enrollment Management (SEM) planning; interim Student Services leadership and on-demand staff; business process optimization; Future State Process Reimagine; enterprise system (i.e., ERP, SIS, LMS, HRIS, CRM) programming, system support, optimization, implementation/migration, and application managed services (for all major enterprise systems, including Banner, Colleague, PowerCampus, Jenzabar, Oracle, PeopleSoft, Workday, and more)   
#5. Leveraging data to differentiate the institution.
Data analytics is quickly becoming a competitive differentiator. CIOs need to develop a strategy that empowers all technology users to make data-driven decisions that pave the way for institutional success.  
CampusWorks can help: Institutional Research as a Service (IRaaS), interim IR leadership, IR staff on-demand, data readiness assessment, data governance, data conversion, data migration, reporting, database administration, systems analysis, technology assessments  
#6. Providing flexible IT support in a hybrid world.
In the wake of the COVID-19 pandemic, CIOs must ensure the institution can securely and equitably meet the growing demand for hybrid and virtual learning environments and workspaces. 
CampusWorks can help: IT/tech assessment, cybersecurity assessment, ERP assessment, systems analysis, technology support, data support, application managed services (for all major enterprise systems, including Banner, Colleague, PowerCampus, Jenzabar, Oracle, PeopleSoft, Workday, and more), business process optimization, project management, interim CISO, CISO shared services, interim IT security staffing, website development and maintenance 
When IT Nightmares Strike, CampusWorks Can Help You Sleep Tight
Whether you're preparing for a shockwave, like supporting the upcoming implementation of the Simplified Free Application for Federal Student Aid (FAFSA) form, or a seismic shift, like transitioning your ERP system to the cloud, CampusWorks can help. We provide flexible, cost-effective, on-demand access to the support you need, when you need it. We have technical talent with expertise in all major enterprise systems and functional experts who can lead or support any area on campus. 
Change is inevitable.
Growth is optional.