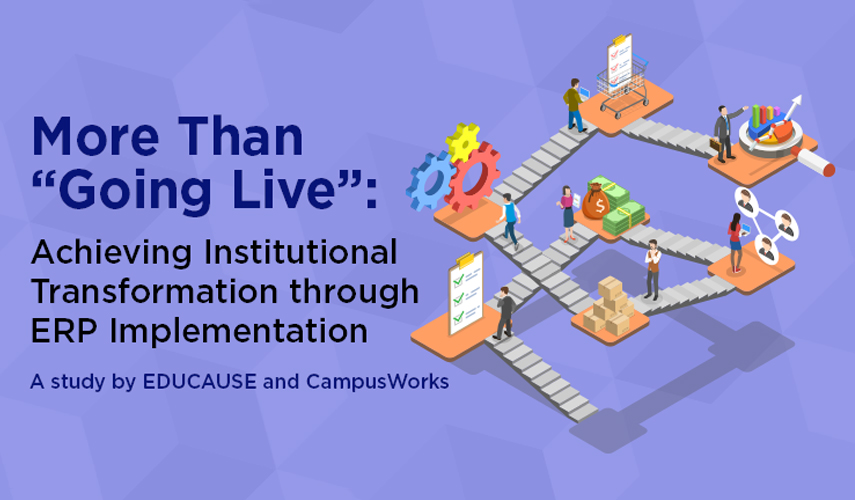 Thought Leadership
CampusWorks Sponsors New EDUCAUSE Study on Achieving Institutional Transformation through ERP Implementation
We are pleased to announce that CampusWorks has sponsored a new study conducted by EDUCAUSE, "More Than Going Live: Achieving Institutional Transformation through ERP Implementation," which explores the transformative potential of enterprise resource planning (ERP) systems and highlights key preparations for higher education institutions seeking to maximize the impact of their ERP implementation.
With the advent of cloud computing and an influx of new ed tech solutions, the ERP landscape has changed dramatically in recent years. This study examines critical implementation preparations such as change management, stakeholder engagement, leadership support, and future state process optimization. By delving into these areas, the study equips higher education leaders, IT professionals, and project managers with best practices to drive successful ERP implementations that result in meaningful institutional change.
As a sponsor of this important study, CampusWorks demonstrates its ongoing commitment to support and guide colleges and universities in their digital transformation journeys. With more than two decades of experience leading ERP implementations and a deep understanding of the unique challenges faced by colleges and universities, CampusWorks is dedicated to empowering institutions to leverage technology effectively to drive meaningful transformation.
"ERP systems have the potential to be game-changers for higher education institutions, enabling them to streamline operations, enhance student experiences, and drive data-informed decision-making," said Liz Murphy, CEO of CampusWorks. "We are proud to sponsor the EDUCAUSE study, which provides valuable insights into how institutions can fully realize the transformative power of an ERP implementation."
Prior to releasing the report, EDUCAUSE researchers previewed their survey findings in a webinar, "The ERP Landscape: Lessons Learned on ERP Planning and Implementations." They were joined by three thought leaders who shared their unique perspectives to provide additional context. Ben Rapin, Associate Vice President for IT and Chief Technology Officer at Grand Valley State University (GVSU), discussed his experience moving from Banner to Workday. Dr. Tuesday Stanley, president of Westmoreland County Community College (WCCC), reflected on the lessons she has learned during WCCC's transition from Colleague to Anthology. And Liz Murphy, CEO of CampusWorks, tied it all together, offering a big-picture perspective informed by supporting hundreds of the ERP implementations at institutions across higher ed. Read their stories of struggle and success »
To learn more about this research study and download a copy of the report, visit the EDUCAUSE website. For additional information about CampusWorks and its comprehensive suite of ERP evaluation, selection, and implementation services, visit CampusWorks' website.