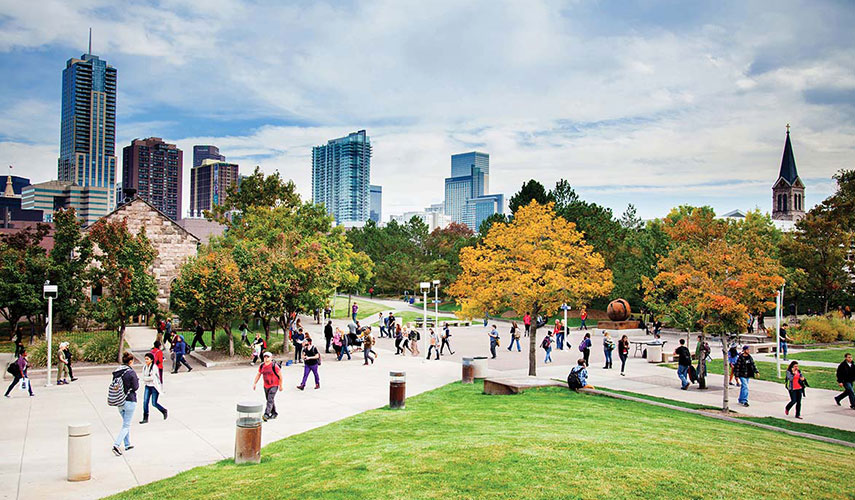 Enterprise Solutions
Optimizing systems to streamline student success
Metropolitan State University of Denver (MSU Denver) is dedicated to meeting students where they are while providing an affordable and transformative education. Located in downtown Denver, MSU Denver shares a campus with the Community College of Denver and the University of Colorado at Denver, where transferability among the three institutions puts countless opportunities at students' fingertips.

In recent years, a proliferation of manual processes has significantly increased the time and effort required to complete routine tasks, such as processing transcript requests so students can move between the three institutions on campus and packaging financial aid to enable them to register for courses. When coupled with campuswide staffing shortages, the resulting operational inefficiency created bottlenecks and delays that impacted students' ability to successfully pursue their educational goals.
These challenges and their impact on students prompted MSU Denver to issue a request for proposal (RFP) to identify a partner who could help determine whether the University should move to a new ERP system or optimize its existing Banner 9 platform. CampusWorks' long history and strong track record of providing an unbiased perspective that helps gain consensus about the future of their ERP systems were among the factors that motivated MSU Denver to partner with us for this important engagement.
Deciding the Future of MSU Denver's ERP System
CampusWorks conducted a Fit Gap Analysis designed to give campus stakeholders a voice in the discovery process to ensure all pain points, broken processes, and other barriers are brought to light.
A common theme that emerged indicated the University was not fully utilizing Banner 9, instead relying on manual processes and shadow systems to perform critical tasks. For example, key financial aid processes, like satisfactory academic progress and return to Title IV (R2T4) were managed by spreadsheets, which caused packaging delays. Important system functionality, like Banner Workflow, which is designed to automate and digitize processes across the institution, and Communication Management, which uses Banner data to automate communications with students and constituents, were not being used.
Based on the assessment team's findings, MSU Denver's leadership decided to adopt a modern ERP system that would support the University's vision for the future. Since the selection and implementation process can take years, CampusWorks' Banner specialists built workflows and optimized the current Banner 9 platform to increase efficiency in the near term until the new system was ready.
The Talent Shortage Threatens MSU Denver's Transformation
Since CampusWorks' assessment team uncovered extensive manual processes during the Fit Gap Analysis, MSU Denver's leadership decided to pursue a Process Reimagine & Redesign (PRR) to articulate the path forward.
CampusWorks' PRR methodology explored MSU Denver's student lifecycle with a focus on streamlining the process and improving the overall experience. They engaged stakeholders across the institution to co-create a shared vision of the ideal student experience and redesign processes to support it. This initiative focused on Financial Aid, Registrar's Office, and Bursar and surfaced improvement opportunities that will make service delivery more student-friendly and efficient.
Unfortunately, the Great Resignation, which caused key leadership and staff departures at institutions across the country, created vacancies that threatened MSU Denver's ability to implement the PRR recommendations and optimize processes.
With a deep bench of seasoned higher education professionals at the ready, CampusWorks provided an interim financial aid leader who brought stability to the department, built the team, and shepherded high-impact technology projects through the process. During this time, Financial Aid experienced transformational growth, from earlier awarding and reduced processing time to fewer calls and much reduced wait times in the Call Center. MSU Denver has since hired a permanent Financial Aid leader who is positioned to build upon this strong foundation.
Additionally, CampusWorks' interim enrollment leader helped the University optimize how it was using its customer relationship management (CRM) system, Slate, to provide better visibility into their enrollment funnel. CampusWorks enrollment specialists developed an interim, six-month Strategic Enrollment Management (SEM) Plan, which included the Offices of Financial Aid and Registrar, to guide the University's enrollment recovery efforts until the next Fall term when an official SEM Plan could go into effect.
Getting Back to Happy
MSU Denver is no stranger to the concept of a "happy campus." Serving approximately 18,000 undergraduate students annually, the University is a designated Hispanic Serving Institution (HSI) that was recently ranked the #3 Most Innovative Schools by U.S. News & World Report. It has been an annual recipient of the Higher Education Excellence in Diversity Award since 2014 and has been named a Best School for Vets by Military Times. But the pandemic and other disruptive forces have created challenges for most higher education institutions, including MSU Denver.
At CampusWorks, our team knows that creating a happy campus begins with ensuring the institution's people, processes, technology, and data are aligned to support its vision, mission, and strategic goals. Our partnership with MSU Denver is helping them get back to happy by exposing critical misalignments and providing interim leadership and staff to support initiatives to address them.
Need an extra set of hands (or several)?
CampusWorks' interim leadership and staff augmentation services provide the extra hands you need to supplement your current team. Perhaps you have a special project that needs to move quickly or a new initiative for which you don't have resident expertise. Or maybe your team needs a jumpstart from higher ed pros who've walked in the shoes of your staff. If so, you're speaking our language! CampusWorks' interim leadership and staff augmentation services cover the full administrative gambit — student experiences and lifecycle, human capital management, payroll, finance, and IT. We deliver these crucial services ensuring full knowledge transfer, so your campus team is happily empowered to carry on when it's time for us to go. We're here for the short-term or the long haul, so you can be there for your students. Let's talk!
FREE WEBINAR REPLAY
Want to learn more about MSU Denver's enrollment recovery journey? Watch a free webinar replay, "MSU Denver's Enrollment Recovery: Knowledge was Power, But Implementation Was Their Superpower!"