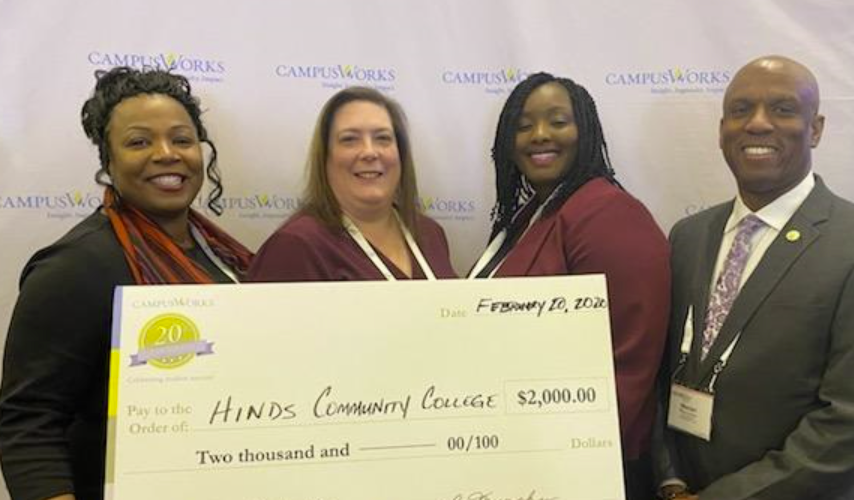 News
Hinds Community College wins $2,000 student scholarship from CampusWorks.
Pictured above (from left): Jennifer Scott-Gilmore, Stephanie Hudson, and Elmira Ratliff of Hinds Community College, and Warren Johnson of CampusWorks.
Washington, D.C. – February 20, 2020 – Hinds Community College of Raymond, Mississippi is the most recent winner of a $2,000 scholarship from strategic higher education consulting firm CampusWorks. In celebration of the company's 20th anniversary, CampusWorks has launched a scholarship giveaway to support student success—the firm has pledged to donate $2,000 scholarships to 20 different colleges and universities across the United States and Canada, providing a total of $40,000 in financial support for students in need. (See the full list of scholarship winners.)
The scholarship was raffled off during an educational session at the Association of Community College Trustees (ACCT) National Legislative Summit in Washington, D.C., and Hinds was randomly selected as the winner.
"Hinds Community College is pleased to be the recipient of a $2,000 scholarship gift from CampusWorks" said HCC President Clyde Muse. "With over 72%  of our students receiving some type federal assistance, it is obvious that we have students who need scholarship help. We are excited that we will be able to help make a difference in several students' lives through your gift."
Founded in 1999, CampusWorks' vision is to improve society by making higher education accessible to everyone, and offering these scholarships is a big step toward making that vision a reality. "After two decades working directly with institutions, we see firsthand the challenges many students face," said CampusWorks CEO Liz Murphy. "We want to do our part to ensure that financial need does not prevent anyone from pursuing a quality education."