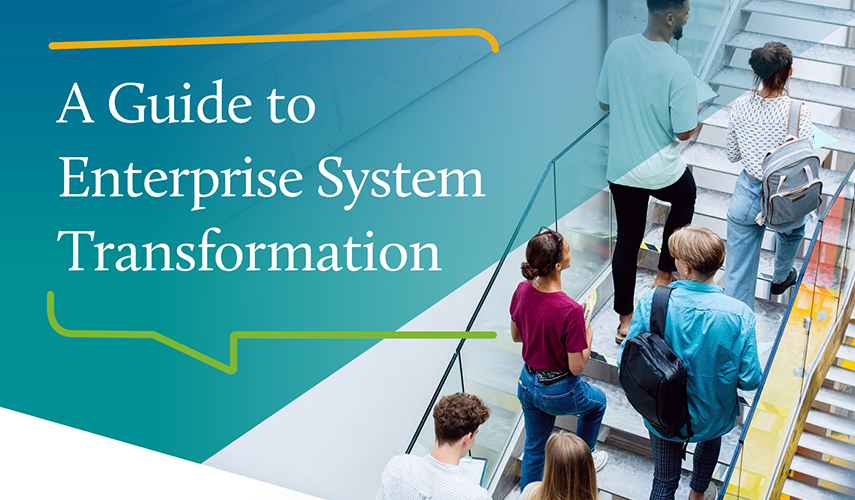 Enterprise Solutions
Why do so many enterprise systems fall short of expectations?
Enterprise systems have the power to foster cross-functional collaboration, support data-informed decision-making, and provide an intuitive interface that streamlines the student experience and enables staff to be productive and engaged. Yet few systems ever achieve their full potential.
Over two decades of experience leading enterprise system evaluation, selection, and implementation projects has shown us that most problems can be traced back to a lack of communication and collaboration. Over time, these dynamics permit processes to evolve organically and unsystematically until shadow databases and manual workarounds become the new norm. In attempt to fix things, many institutions end up wasting money acquiring multiple software solutions that are designed solve the same problem. Eventually, technology becomes an obstacle standing between students and their educational goals rather than streamlining the experience to enable their success.
Do your enterprise systems enable or impede student success?
Drawing on more than 20 years of experience, CampusWorks' experts have curated the lessons they've learned to bring you the Guide to Enterprise System Transformation.
This complimentary CEO resource provides practical advice for how to:
Listen to your campus community and embed their needs into the transformation experience.
Uncover process problems impacting the student and administrative journeys.
Determine which deployment strategy and enterprise solution are right for your institution.
Take the risk and guesswork out of your implementation.
Manage the transition to ensure success and achieve a better future.
Preview the Table of Contents »
Optimize your enterprise systems for success.
While no one can predict the future, you can prepare for it by understanding what it will demand: maximum return on investment from both systems and staff, highly optimized business processes and operations, and an unwavering commitment to the student experience.
CampusWorks' Guide to Enterprise System Transformation will show you the way. Because we know that when your enterprise systems are optimized for success, your entire institution is optimized for
Complete the form below to access the Enterprise Transformation Guide