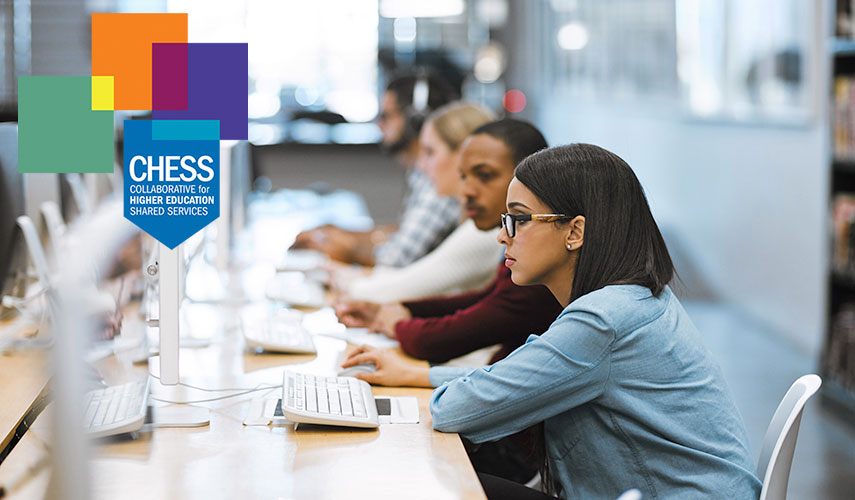 News
Consortia and Collaboratives Choosing CampusWorks to Challenge Old Assumptions & Deliver New Value
The Collaborative for Higher Education Shared Services (CHESS), which five schools in New Mexico started: Central New Mexico Community College, Clovis Community College, Northern New Mexico College, San Juan College, and Santa Fe Community College – will work with CampusWorks to set up multi-institution HR and financial services modules, followed by a student service platform intended to handle numerous aspects of the student journey, from recruitment and registration to completion and career.
"The CHESS colleges are leading the way in creating satisfying and impactful experiences for students while remaining vigilant in the management of financial and human resources," said Liz Murphy, CEO, CampusWorks. "The efficiencies gained with the new administrative system can be harnessed to enhance student services and reduce barriers."
Read more in this Campus Technology article.
Similarly, the Green Mountain Higher Education Consortium is a collaborative endeavor of three Vermont Colleges: Champlain College, Middlebury College and Saint Michael's College. Partnered together, their goal is to find ways to collaborate in administrative services common to all three institutions. Their partnership with CampusWorks includes the reimagine and redesign of processes that will lead to greater efficiency and reduce costs over the long term while increasing service levels to students at their member institutions. The Consortium's progress was recently highlighted in EAB's Compendium of Interinstitutional Partnerships.
CampusWorks has partnered with multi-institution organizations to develop shared service solutions that lift the administrative, academic, and technology burdens institutions face for more than two decades. In 2021, we're demonstrating our ongoing commitment to supporting consortia and collaboratives nationwide (and to giving back!) by offering two (2) Shared Services Impact Grants.