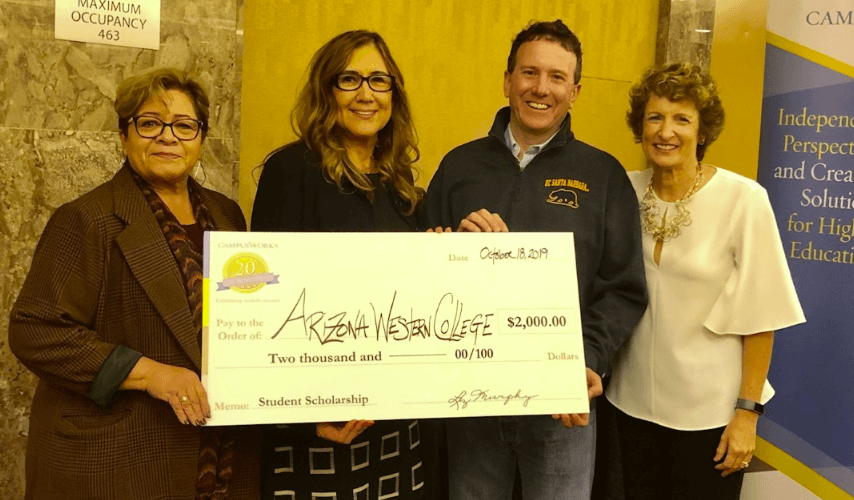 News
Arizona Western College Wins $2,000 Scholarship from CampusWorks
The Arizona Western College team accepts a $2,000 student scholarship donation
from CampusWorks CEO Liz Murphy at ACCT.
Bradenton, FL – October 23, 2019 – Arizona Western College of Yuma, Arizona is the most recent winner of a $2,000 scholarship from strategic higher education consultant firm CampusWorks. In celebration of the company's 20th anniversary, CampusWorks has launched a scholarship giveaway to support student success—the firm has pledged to donate $2,000 scholarships to 20 different colleges and universities across the United States and Canada, providing a total of $40,000 in financial support for students in need.
Arizona Western College was selected as a scholarship winner through a random raffle held during CampusWorks' 20th Anniversary celebration on October 18th at the Association of Community College Trustees (ACCT) Leadership Congress in San Francisco, California. A member of the hotel staff drew the winner.
Founded in 1999, CampusWorks' vision is to improve society by making higher education accessible to everyone, and offering these scholarships is a big step toward making that vision a reality. "After two decades working directly with institutions, we see firsthand the challenges many students face," said CampusWorks CEO Liz Murphy. "We are thrilled that this scholarship will help students pursue their educational goals at Arizona Western College."
"AWC is fortunate to have dedicated trustees, including those that attended the ACCT conference in San Francisco," said Arizona Western College President Dr. Daniel Corr. "During the event we were lucky enough to win a drawing for a $2,000 scholarship from CampusWorks that will be used to benefit our students."