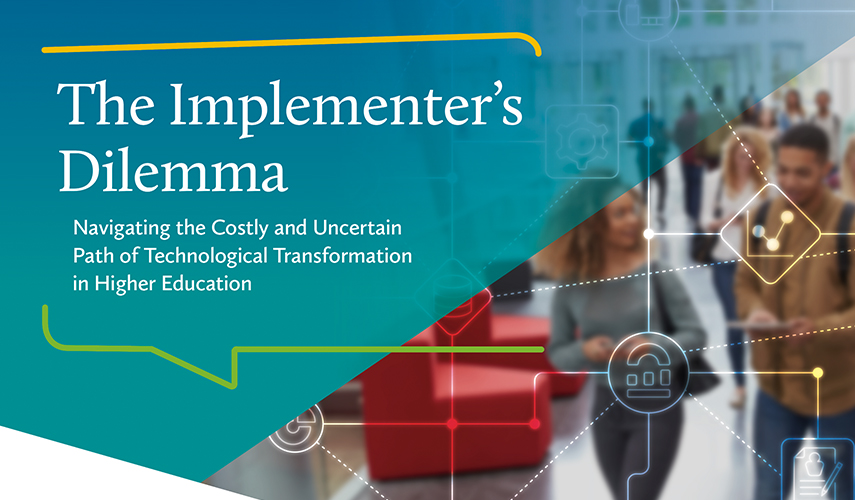 Thought Leadership
ERP Implementation:
Great Expectations, Mixed Results
The future of higher education will require colleges and universities to become technology-enabled institutions that can personalize learning, predict student needs, and make informed decisions. To make this vision possible, the enterprise resource planning (ERP) landscape has undergone significant advancements driven by cloud-based solutions, mobile accessibility, and robust data analytics.  
Many institutions have invested millions of dollars and devoted years of effort to implementing modern ERP systems. However, the impact of these changes on the implementation process for higher education institutions remains largely unknown.  
Until now.  
With support from CampusWorks, EDUCAUSE conducted a comprehensive study that surveyed 368 respondents across five stages of ERP implementation and conducted 20 follow-up interviews with individuals from 19 institutions. The findings of this study, titled "More than 'Going Live': Achieving Institutional Transformation through ERP Implementation," shed light on the realities of these expensive, multi-year projects and the crucial preparations needed for success.  
One standout finding: Half of institutions that implemented a new ERP system in the past decade reported the project fell short of their expectations.  
This is the implementer's dilemma. While technological transformation is imperative for the future, the journey remains costly, demanding, and uncertain.  
At CampusWorks, we aim to rewrite this narrative. Our team of ERP professionals, IT leaders, project managers, and process optimization experts have pooled their expertise to offer insights and strategies in this e-book to ensure your ERP implementation is primed for success.  
Together, let's transform the implementer's dilemma into your strategic advantage.  
Complete the form below to access the Implementer's Dilemma E-book.