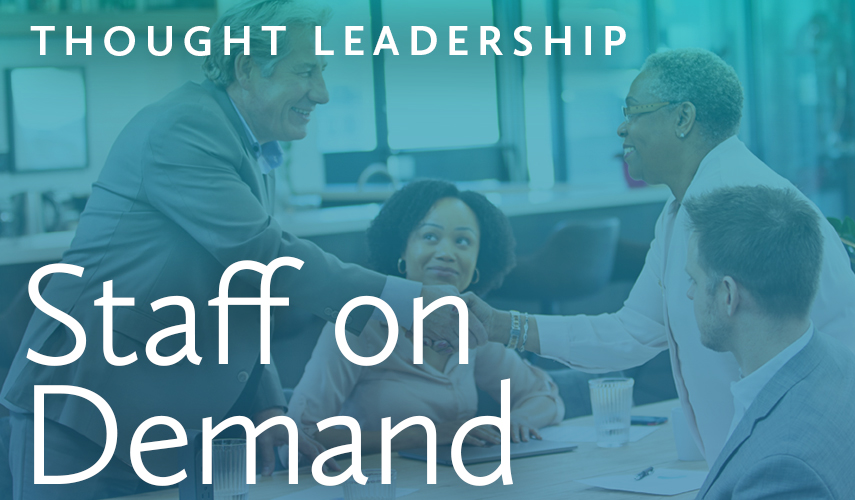 Thought Leadership
The

Successful

Leader's

Secret Weapon:




How

'Staff On-Demand'

Can Supercharge Your Organization
The Problem: With growing employee turnover, higher ed leaders face increasing challenges in effectively supporting institutions' evolving needs.
As colleges and universities compete for a shrinking supply of college-bound 18–year-olds, most C-Suite leaders are navigating converging challenges — from balancing academic quality and decreasing funding to expanding student support as operational costs rise and tuition revenue fluctuates. Keeping an institution running smoothly (and securely) while managing these headwinds requires multifaceted expertise and collaborative support.
These challenges are compounded by the fact that turnover in the higher education workforce is higher than ever, according to new research by the College and University Professional Association for Human Resources (CUPA-HR).
The C-Suite's Secret Weapon: Staff On-Demand
Given the competitive challenges of recruiting and retaining top talent in today's hot job market, more higher ed leaders are turning to flexible, "on-demand" staffing options without the long-term costs and commitments of full-time hiring.
Keep Operations Running Smoothly with On-Demand Access to Top Talent
Chief Financial Officer (CFO)
Chief Human Resources Officer (CHRO)
Chief Information Officer (CIO)
Chief Information Security Officer (CISO)
Chief Technology Officer (CTO)
Director of Enterprise Applications
Director of Financial Aid
Director of Institutional Research and Assessment (or Data Management)
Director (or Vice Chancellor) of Technology Infrastructure
…and many more!
Benefits of 'Staff On-Demand'
Just-in-time access to diverse talent.  When a sudden need arises — like a leadership departure or backfilling key roles during an enterprise system implementation — Staff On-Demand is a timely, cost-effective solution that prevents operational disruption
Flexibility. "Right-size" your team in real time, adding or removing experts based on project requirements, ensuring that strategic projects don't get delayed due to resource constraints or that staff aren't underutilized during quieter periods.
Strategic focus. With the ability to quickly bring in experts for specialized or non-critical tasks, your core team can remain focused on their primary responsibilities and strategic priorities.
Competitive edge. With rapid technological advancements, institutions must be able to quickly and effectively adopt new technologies. Staff On-Demand gives you access to hard-to-find IT talent, like chief information security officers, chief technology officers, data analysts, cloud architects, and more for short or long deployments regardless of local market conditions.
Cost containment. Hiring full-time staff involves significant long-term overhead costs, including benefits, training, and workspace resources. Since Staff On-Demand only requires you to pay for the time and skills you use, at pre-negotiated rates, you can reduce personnel expenses and have tighter control over your budget.
Upskilling. Bringing in external experts can benefit your in-house team by exposing them to outside perspectives and cutting-edge knowledge.
Best Practices
✓ Clearly define the institution's needs, desired outcomes, and negotiated rates upfront in agreements
✓ To ensure on-demand staff are a cultural fit, partner with a Great Place to Work-Certified™ provider, which demonstrates the firm's commitment to fostering a strong workplace culture.
✓ Confirm that the specialists have credentials and verify references from similar clients.
✓ Treat on-demand staff like part of your team by providing thorough orientation, ensuring immediate access to necessary systems and training, and introducing them to their full-time counterparts to foster collaboration and knowledge-sharing.
✓ Maintain regular check-ins to provide feedback and optimize performance but empower flexibility in execution.
✓ At the end of the project, capture and transition knowledge to the institution.
Need an extra set of hands (or several)?