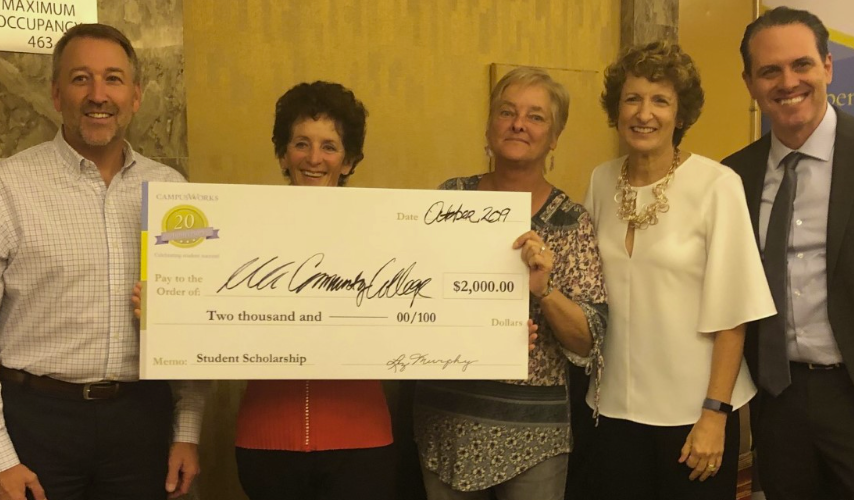 News
Mohave Community College Wins $2,000 Scholarship from CampusWorks
Bradenton, FL – October 24, 2019 – Mohave Community College of Kingman, Arizona is the most recent winner of a $2,000 scholarship from strategic higher ed consulting services firm CampusWorks. In celebration of the company's 20th anniversary, CampusWorks has launched a scholarship giveaway to support student success—the firm has pledged to donate $2,000 scholarships to 20 different colleges and universities across the United States and Canada, providing a total of $40,000 in financial support for students in need.
In mid-October, MCC President Klippenstein and two Governing Board Trustees Dr. Selberg and Susan McAlpine attended a strategic planning educational session led by CampusWorks at the Association of Community College Trustees Leadership Congress in San Francisco, California. During the event, MCC was randomly selected to receive the scholarship funds for students. (See the list of scholarship winners.)
Founded in 1999, CampusWorks' vision is to improve society by making higher education accessible to everyone, and offering these scholarships is a big step toward making that vision a reality. "After two decades working directly with institutions, we see firsthand the challenges many students face," said CampusWorks CEO Liz Murphy. "We are thrilled that this scholarship will help students pursue their educational goals at Mohave Community College."
"Mohave Community College is extremely excited about winning one of CampusWorks' 20th Anniversary scholarships," said MCC President Stacy Klippenstein. "This scholarship will financially help our students and assist in their academic goals. We thank CampusWorks for their continued support of students and their success."
In December, the College awarded the scholarship to four students who participated in Student Experience Workshops as part of the Strategic Planning 2025-26 effort. Tabitha A. Gray (Bullhead City campus), Nadia I. Suarez (Lake Havasu City campus), Spencer L. Severns (Neal Campus- Kingman) and Selma J. Richter (North Mohave campus) are the scholarship recipients.