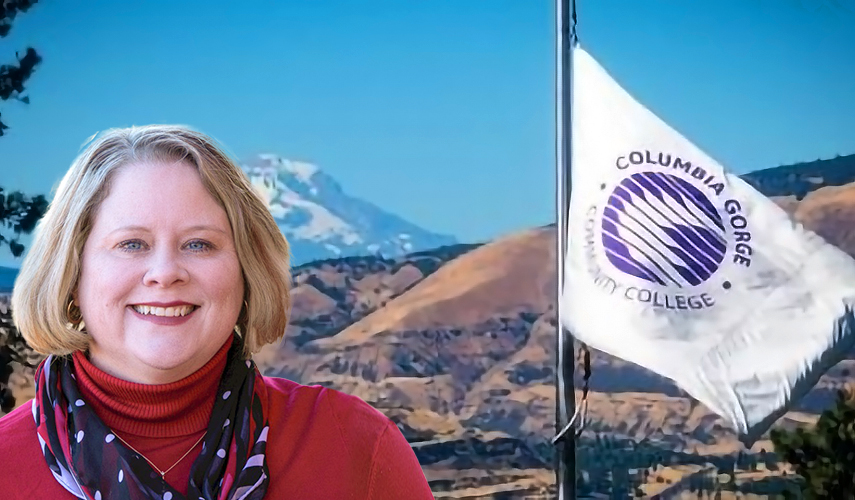 Enterprise Solutions
Change Champion Dr. Lorelle Davies Turns Challenges into Opportunities
at Columbia Gorge Community College
By Rebecca Steely, Project Manager, CampusWorks
In celebration of Women's History Month, I'd like to recognize Chief Financial Officer Dr. Lorelle Davies, a change champion who is transforming the student and employee experiences at Columbia Gorge Community College (CGCC).
CGCC is a small, rural community college located in Central Oregon's Columbia River Gorge, a popular destination for hiking, biking, skiing, and fishing. Students come here to pursue their educational goals while enjoying an active outdoor lifestyle.
Like many institutions, CGCC has experienced fallout from the pandemic, including staff turnover and enrollment fluctuations, but the College's enterprise resource planning (ERP) system, RogueNet, compounded these issues.
RogueNet was a homegrown system developed by Rogue Community College, in Grants Pass, Oregon that CGCC licensed in 2005 and operated until recently. When support for RogueNet expired in 2018 and its functionality could no longer meet the College's needs, CGCC's leadership decided to replace it with a modern solution by Anthology (formerly known as CampusNexus) to deliver the streamlined experience that today's students and employees expect.
Anyone who has attempted an enterprise system replacement knows all too well that it can be an arduous effort rife with challenges. But working alongside Dr. Davies as CGCC's project manager, and in partnership with the Anthology implementation team, I've seen firsthand the powerful impact a transformative leader can make.
Dr. Davies joined the CGCC team in November 2021, while the implementation was well underway and struggling. She has led a team of new and familiar faces, bringing energy and agility to this project while creating a safe space for people to share ideas and try innovative approaches to overcome the occasional obstacles we encounter along the way.
One challenge we encountered was the Bookstore's point-of-sale system — a decades-old legacy system that would not integrate with the new finance platform and had aged out of accepting basic Windows updates. Dr. Davies led the team to adopt a cross-departmental system that unified the Bookstore, Campus Café, and virtual account payment solution. This solution provides students with a single point of access for all accounts and related transactions, including tuition payment plan scheduling. This kind of single channel payment solution is often unavailable to small, rural institutions, like CGCC, but innovative thinking and bold action made it possible.
If you look carefully, change champions are all around us. They are people, like Dr. Davies, who see opportunities in challenging times and inspire courageous action and teamwork in pursuit of a brighter future for all.