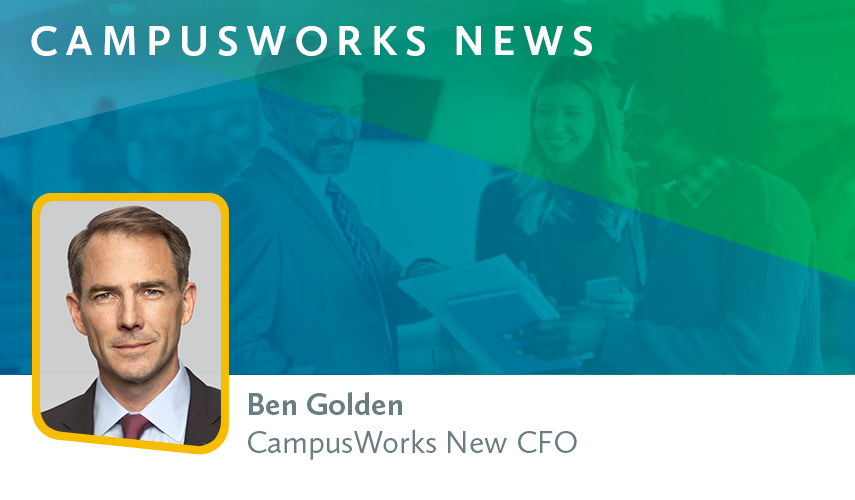 News
PRESS RELEASE
CampusWorks, Inc. Welcomes New CFO, Ben Golden, to our Executive Team
CampusWorks, Inc., the leading partner of higher education CEOs committed to solving the toughest challenges facing higher education, is pleased to announce Ben Golden as Chief Financial Officer (CFO). Ben has served in accelerated positions across finance for 30 years; 12 of those as CFO. As a modern CFO, he is skilled at making the seemingly impossible possible.
He joins CampusWorks after a record-setting 2022. 2023 and beyond promise more of the same as CampusWorks continues in-depth collaboration with higher education institutions leveraging the five service practices of Optimization Solutions, Enterprise Solutions, Managed Services, Technology Services and Staff Augmentation.
"In recruiting for this position, we continue our standard of selecting executives aligned with our Guiding Principles of integrity and ethics. In Ben, we have an experienced financial professional committed to our mission to improve higher education one student at a time," said Liz Murphy, CEO and Chief Evangelist of CampusWorks, Inc. "In this critical time for higher education, we confidently welcome a CFO who understands that his role goes far beyond spreadsheets and numbers; rather is focused on bringing creative solutions to the wicked problems endured by the industry. We believe we have found all of this in Ben Golden."
Golden joins CampusWorks in high growth mode and will uniformly apply best practices and building blocks that give visibility into finances, budgets and planning across the organization. He brings experience building infrastructure and modeling the same change and adaptability that our consultants drive with our clients daily.
"I am joining CampusWorks enthusiastic about three things," says CampusWorks CFO, Ben Golden. "First, the mission of the company to help higher education adapt to tremendous change which impacts not just students, faculty and staff but has a broader connection around the world. Second, the opportunity to help lead CampusWorks as it scales through its high growth trajectory. Finally, the people and culture of CampusWorks are extraordinary. Everyone I have met in the interview process has been so impressive. This dynamic company is very special, and I'm thrilled to join."
Prior to CampusWorks, Golden was CFO at T-REX, an industry-leading platform offering advanced software and managed data services for asset-backed finance. He graduated from Lehigh University with a BS in Finance/Management and from NYU Stern School of Business with his MBA in Finance/Management. He brings significant experience leading professional services organizations, which will help grow CampusWorks to its full potential.
About CampusWorks
Since 1999, CampusWorks has been collaborating with colleges and universities to develop and implement insightful strategies that improve institutional effectiveness and enhance the student experience.